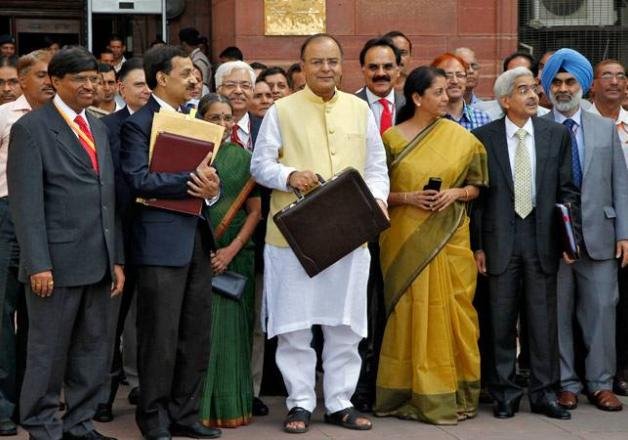 New Delhi: Narendra Modi government will face acid test as Finance Minister Arun Jaitley will present his third Union budget for the finacial year 2016-17. The budget disclose the government's future expenses intended to boost the economy and bring stability through tax proposals
We bring to you 10 interesting facts about Union Budget
1) The word 'budget' has its origin in French word 'bougette' which means small bag.India has had 25 finance ministers since Independence.
2) Independent India's first Union Budget was presented by R.K.Shanmukham Chetty on Nov 26, 1947.
3) The next Finance Minister, C.D. Deshmukh presented the first budget in the first elected Parliament on the basis of adult franchise.
4)  Maximum no. of times Union Budget was presented by 5th PM of India and FM Morarji Desai. He presented it 10 times. Twice he presented it on his birthday on 29 Feb 1964 and 1968.
5) Printing of Budget documents starts roughly a week ahead of presenting it in the parliament with a customary Halwa Ceremony which is served to officers and support staff involved. They remain isolated and stay in the nOrth Block office until the Budget is presented. Halwa is served by FM also.
6) Earlier Budget was presented at 5 pm in the evening on the last working day, inherited from colonial era, when British Parliament would pass the budget in noon, followed by India in the evening. It only changed in 2001 by Mr Yashwant Sinha, since then union budget is presented at 11 am.
7)Traditionally,Indian Finance Ministers carry a budget bag to the parliament, it's a colonial legacy that's more than 150 years old, India's budget bag is a direct descendent of the red Gladstone box that has graced every single British budget since 1860.
8) Jawaharlal Nehru, Indira Gandhi and Rajiv Gandhi are the only Prime Ministers who presented Budget.
Nehru was the first who presnted the budget in  the financial year 1958-59. Indira Gandhi was only woman Finance Minister who presented Budget in 1970-71 after Morarji Desai resigned.Rajiv Gandhi presented the budget for 1987-88 after V P Singh quit his government.
9) In 1991-92 final and interim budgets were presented by Yashwant Sinha and Manmohan Singh respectively.This was the first occasion when the interim and final budgets were presented by two ministers of two different political parties.Manmohan Singh opened the economy, encouraged foreign investments, reduced peak import duty from 300 plus percent to 50 percent and introduced the concept of service tax.
10) The budget was introduced for the first time in India on April 7, 1860 by the East India Company to the British Crown. A company which now has an India owner in Sanjiv Mehta, a Mumbai-born entrepreneur who successfully claimed the company in 2005.