Follow us on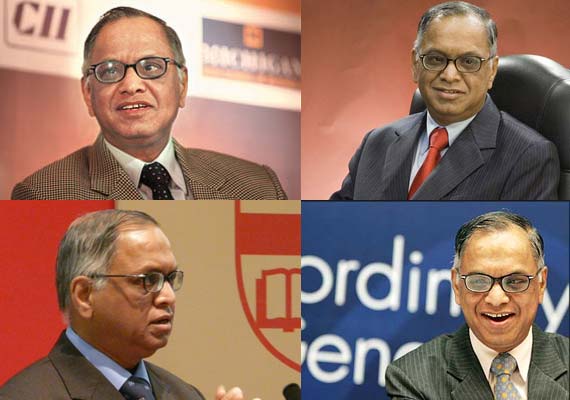 New Delhi: Nagavara Ramarao Narayana Murthy, the well known IT czar from Bengaluru, is credited with building India's second largest software services company that now has empire stretching from Bengaluru to Boston. During his tenure the company not only saw exponential growth but also sparked an outsourcing revolution world wide. The $ 7.3 billion-revenue firm has been almost synonymous with India's reforms story.
Known to be a humble person with a global vision, Murthy remained at the helm of Infosys for two decades after its inception in 1981. In 2006 he gave up all executive functions at Infosys when he turned 60 and stepped down as executive chairman of the board. From 2006 to August 20, 2011, he served as non-executive chairman and chief mentor of the company.
However, in June 2013, Infosys had to bring its iconic founder N R Narayana Murthy out of retirement to strengthen the company that has slipped to number three in the Indian IT league since he left in August 2011.
The company's board of directors took the unusual decision to recall Narayana Murthy after a disappointing year which saw its share price fall by over 12 per cent in one day. The scale of the drop pushed the board led by K V Kamath, the non-executive chairman, to make the call to Murthy on May 4.
"This calling was sudden, unexpected, and most unusual. But then, Infosys is my middle child. Therefore, I have put aside my plans-in-progress and accepted this responsibility," Murthy said.
Those who watch the company say Mr Murthy's early months have brought a change in management direction, though there is a string of senior executive departures. Mohandas Pai, a one-time senior executive, who left the group in 2011, said Murthy's comeback will bring real focus to the company, especially on sales. "He is pushing them, driving them all a bit crazy, but taking decisions and weeding out non-performers, all of which is positive," he added.
And Murthy's comeback was indeed positive. Infosys gained over 23 per cent on bourses in the past three months following a renewed investor interest in stocks of export-oriented companies amid a sharp depreciation in the rupee against major currencies.
"Humble and self-effacing, Murthy is known to fly economy class and lives in a modest home in Bangalore -- proof, say his fans, that you can combine business success with Gandhian humility," Time magazine had said.
Awarded with Padma Vibhushan, the country's second highest civilian honour, Murthy did his masters programme in electrical engineering from the Indian Institute of Technology, Kanpur.
Apart from juggling responsibilities at Infosys and at his venture capital initiative Catamaran Investment Private Ltd, Murthy also serves on the boards of various entities including HSBC, Ford Foundation, Cornell University and Wharton School.
Let us take a look at some inspiring quotes by Mr Murthy:
"Character + Chance = Success"