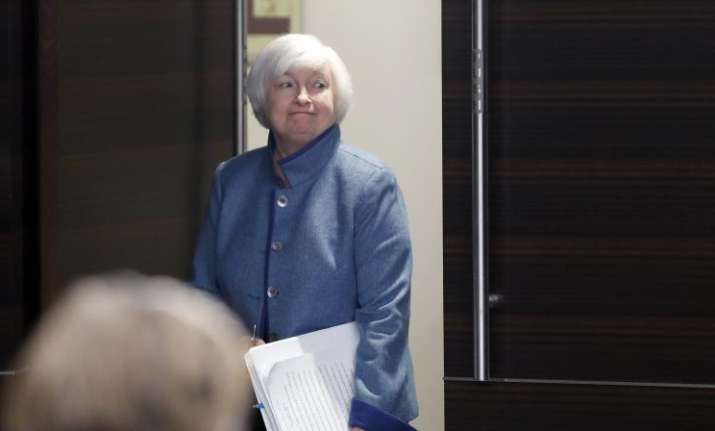 In response to a solid U.S. economy and expectations of higher inflation, The Federal Reserve has raised a key interest rate by 25 basis points to between 0.50 per cent and 0.75 per cent on Wednesday.
Fed also foresees three rate hikes in 2017. The Fed's action Wednesday will mean modestly higher rates on some loans.
The central bank announced after its latest policy meeting that it's increasing its benchmark rate by a modest quarter-point to a still-low range of 0.5 percent to 0.75 percent. The Fed last raised the rate in December 2015 from a record low near zero set during the 2008 financial crisis.
The Fed's move, only the second rate hike in the past decade, came on a unanimous 10-0 vote. It also released an updated economic forecast that showed modest changes to its outlook for economic growth, unemployment and inflation, mainly to take account of stronger growth and a drop in the unemployment rate for November to a nine-year low of 4.6 percent.
Its new projection has the unemployment rate dipping to 4.5 percent by the end of 2017 and remaining at that level in 2018.
The Fed foresees economic growth reaching 1.9 percent this year, slightly above its forecast in September, and 2.1 percent in 2017. That's slightly more optimistic than it projected in September.
The Fed kept its long-term estimate for economic growth at 1.8 percent, far below the 4 percent pace that President-elect Donald Trump has said he can achieve with his program of deregulation, tax cuts and increased spending on infrastructure.
The Fed's estimate that it will raise rates three more times in 2017 is up from an estimate of two increases at the September meeting. Its policy statement showed only modest changes in wording from the previous meeting. It said "economic activity has been expanding at a moderate pace since mid-year" helped along by solid job growth.
Impact on Indian Markets
Indian markets could witness a negative reaction once it opens for trading on Thursday on Fed hawkish commentary on future rates hikes. 
Higher interest rates in the US will make capital more costly, and affect Indian companies that hope to get funds from there. Simultaneously, it will lead to a movement of capital out of India and other emerging markets in search of the higher yields in the US.
The interest rate hike shows the strength in the US economy, eventually sending a strong signal to the dollar against a basket of currencies. However, significant strengthening of the dollar would indeed cause serious problems for emerging economies such as India. 
Several agencies, including the Reserve Bank of India, have already reduced their projections of growth for the country's GDP.
Of late, foreign institutional investors (FIIs) have been selling their holdings in Indian stocks on the back of demonetisation, and uncertainty over rate hike by the US Fed.
Asian stocks sees dip
Share benchmarks in Asia are seeing moderate losses early Thursday, after the Federal Reserve raised interest rates overnight. The quarter percentage point rate increase, the second in a decade, was widely expected although investors were surprised to see the Fed project three more increases for 2017.
Japan's Nikkei 225 index was the only market to climb early Thursday, gaining 0.2 percent to 19,294.70 after the release of upbeat manufacturing data. Hong Kong's Hang Seng fell 1.1 percent to 22.214.45 and Australia's S&P ASX 200 dropped 0.8 percent to 5,540.70. South Korea's Kospi lost 0.4 percent to 2,028.95 and the Shanghai Composite index fell 0.3 percent to 3,129.95.
Wall Street suffered its biggest percentage decline since before the 8 November U.S. presidential election, though the loss was slight compared with gains of the last month or so.