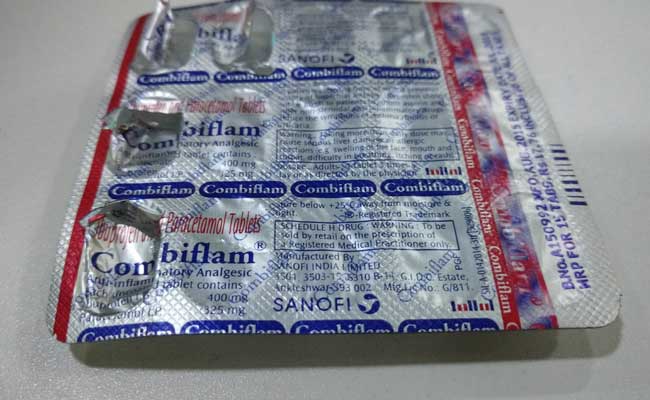 The Central Drugs Standard Control Organisation (CDSCO) has found popular painkiller Combiflam and common cold medicine D Cold Total, manufactured and sold by Sanofi India and Reckitt Benckister Healthcare India, respectively, to be substandard in its tests done last month. 
Among other medicines found substandard are Cipla's Oflox-100 DT tablets, Theo Asthalin tablets as well as Cadila's Cadilose solution. 
Following the standard test, the CDSCO has issued a drug alert for as many as 60 medicines, which include five aforementioned drugs, as they failed different quality tests in March 2017, reports said.
According to The Indian Express, Combiflam batch number A151195, manufactured in October 2015, failed the disintegration of CDSCO. Last year, the drug regulator had found Combiflam to be substandard three times – in February, April and June – for failing the same test. 
 

"Certain batches of Combiflam manufactured in 2015 were deemed substandard because the tablets showed a delay in the disintegration time. Essentially, there are several pharmaceutical parameters that are routinely assessed, one of which is to check the breakdown of a tablet in the human body. The batch identified by the CDSCO in March 2017 was also manufactured in 2015. Once we receive the official notice, we will ascertain the finding and take appropriate action," The Indian Express quoted Sanofi India spokesperson as saying. 

 
Last year, when Combiflam had passed the disintegration test thrice, Sanofi India had recalled the affected batches. Combiflam, a combination of ibuprofen and paracetamol, is one of Sanofi's leading brands with annual sales of Rs 169.2 core. 
 

Sanofi India spokesperson, however, added, "In the case of these specific 2015 batches of Combiflam, although the disintegration time was delayed, doctors and patients can be assured that there is no impact on the safety and efficacy of the product. Since the matter first arose last year, we have analysed the problem and taken appropriate remedial steps to ensure that the tablets disintegrate within the specified timelines. Combiflam has been in the Indian market for over twenty-five years and continues to be a safe and efficacious analgesic used for relieving pain".

 
Cipla's Theo Asthalin, having annual sales of Rs 17.3 crore in India, also failed the disintegration test carried out last month. On the other hand, Cipla's Oflox 100, having annual sales of Rs 20.7 crore, filed the "assay" test of CDSCO last month. 
The D Cold Total tablets of batch AD762 were found to be substandard as it failed the disintegration test too.