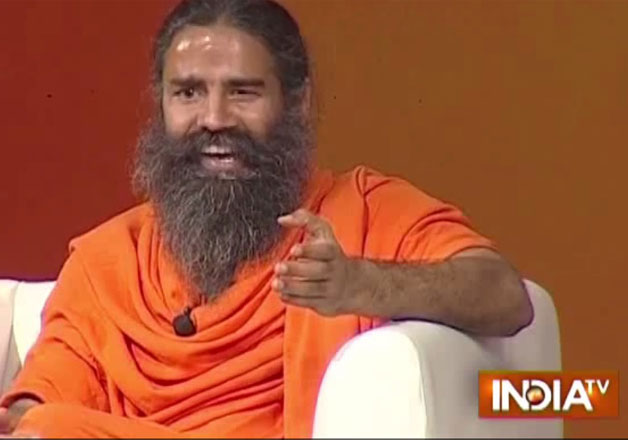 New Delhi: Yoga guru Swami Ramdev has called on the Centre to speed up efforts to bring back black -money stashed in offshore accounts. "There is much frustration among people over the issue of black money".
 
Speaking at the Mega Conclave 'Samvaad' organised by India TV to assess the performance of of two years of Modi government, Swami Ramdev said, " It is true that the amount of offshore black money that was expected to be brought back, did not come. There is need to speed up efforts.
"When people ask me where is the black money, I tell them I agree black money has not been brought back. There is much frustration among the people over black money", the yoga guru said.
 
"80 pc of the black money is in the country itself and only 10-20 pc of black money is outside. The biggest share of black money is in mining, followed by gold, land, politics and drugs. If we can get hold of the black money in these five sectors, it will hugely benefit our economy," Ramdev said.
 
Praising the government for what he called noteworthy progress in the last two years, Ramdev said, Prime Minister Narendra Modi appears to be focussing more on long term goals rather than short-term ones.
 
" I think most among us will agree that Nitin Gadkari has done an exceptional job in infrastructure sector.  Even Suresh Prabhu  is efficiently managing the Railways without any controversy and the biggest achievement of them all is that not a single case of corruption has emerged in the last two years." 
 
However, he also said, work on some of the big ticket schemes of Modi government needs to be accelerated.  "Progress on projects like  Make in India and Digital India should be put on fast track. 
Ramdev also lauded PM Modi's effort to persuade people to give up "LPG subsidy.
 
" After Lal Bahadur Shastri who once successfully appealed to people to give up eating food at least once every day due to food scarcity, it is for the first time that over 1 crore people gave up LPG subsidy after PM's appeal, it's a big achievement," Ramdev said.
 
" If a person , irrespective of religion and caste, can afford, he or she should give up government subsidy on LPG cylinders," he added.
 
When asked about his rumoured fall-out with PM Modi, Ramdev said." I talk to Modiji in two-three months. I often advice  Jaitleyji, Gadkariji and other senior ministers on issues related to nation like black money but there is no misunderstanding with Modi as i expect him to be the most successful PM of the country." 
 
On being asked that his brand Patanjali has prospered after  BJP government came to power, Ramdev countered it by asserting that he has not taken any favours from the present  government. 
 
"Yes, it's true that this government has not harassed us.  Did Modiji help us? Has he done any kind of branding for us? But  if you have a business friendly government at the centre which is not scuttling your freedom to operate, then other firms too can emulate Patanjali's growth story", said Ramdev.
 
Ramdev also announced that Patanjali will launch its dairy products by the end of this year.