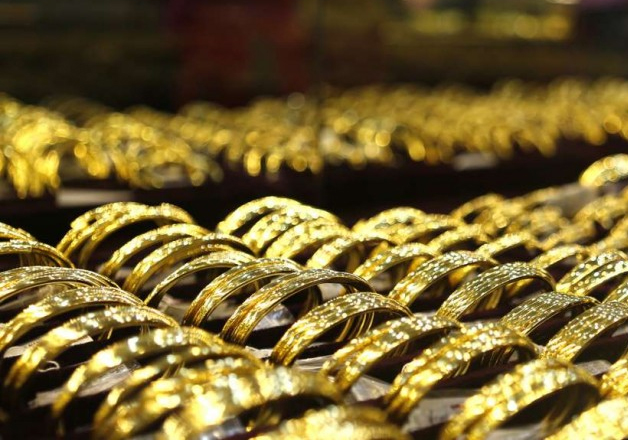 India, the world's second biggest consumer of gold, may record a fall in the demand of the yellow metal by 24 per cent this year. 
According to the World Gold Council (WGC), the fall in demand, lowest in seven years, is due to higher prices and increased smuggling as the government seeks to bring transparency to bullion purchases.
The WGC's 'Q3 2016 Gold Demand Trends' report mentioned that the country has already experienced 28 per cent drop in consumer demand in the July-September quarter. 
The report estimates demand in 2016 to fall to between 650 to 750 tonnes, the lowest since 2009 and far lower than last year's 858.1 tonnes.
 
"In India, more stringent government policies, high gold prices and a squeeze on disposable rural incomes combined to dampen consumer sentiment. These were key factors in total jewellery demand falling 21 per cent year-on-year to 493.1 tonnes from 621.6 tonnes in the same period last year," WGC Head of Market Intelligence Alistair Hewitt said.
The government measures to improve transparency also boosted smuggling of gold, which is likely to rise up to 160 tonnes in 2016, from 100 to 120 tonnes in 2015, PR Somasundaram, Managing Director - India, WGC, said.
The report also noted that global gold demand declined by 10 per cent to 992.8 tonnes in the third quarter of 2016. The gold demand stood at 1,104.8 tonnes in the corresponding quarter last year.
Total investment demand rose 44 per cent to 336 tonnes as investors continued to build up their strategic allocations to gold, it said. 
Gold-backed exchange traded products (ETP) inflows accounted for 146 tonnes in the quarter under review, dominated by European funds, according to the report. These flows were supported by relatively expensive equity valuations and low-yielding sovereign bonds. 
By contrast, bar and coin demand totalled 190 tonnes in Q3, down 36 per cent year-on-year. 
Central bank demand reached 82 tonnes this quarter as against 168 tonnes in the same period last year, it said. Total mine supply dropped by 4 per cent to 832 tonnes in Q3 from 866 tonnes in the same quarter last year. 
The relative stability can be attributed to the cost cutting programmes that have been a feature over the past few years, the report said. 
The rising gold price also encouraged consumers to recycle their gold, generating more than 341 tonnes of supply this quarter, up 30 per cent from the same period last year. 
This trend was particularly prevalent in India, where consumers cashed in on their holdings, swelling the amount of recycled gold in the region to 39 tonnes, its highest level since Q4 2012. 
"We continued to see flows into gold-backed exchange traded products (ETPs) in Q3, taking year-to-date inflows at the end of September to 725 tonnes," Hewitt said. 
"Institutional investors have looked to hedge against uncertainty stemming from geopolitical risk, including Brexit, the US Presidential race and the potential impact of elections in France and Germany next year. In addition, negativeinterest rates continued to underpin institutional demand," he said. 
China, one of the world's leading gold markets, too, experienced a drop in consumer demand this quarter of 22%.
"In China, ongoing economic uncertainty contributed to a softening in sentiment towards the precious metal, which was magnified by high gold prices and changing consumer behaviour," Hewitt said.
Even as the core physical markets of India and China continued to suffer under high prices and squeezed incomes in Q3, but Q4 is likely to be better, he said. 
"Price expectations have always been a key trigger for gold purchases and consumers responded quickly to the price drop in early October. And in the case of India, the first healthy monsoon in three years will boost rural incomes, supporting demand during the festive and wedding season," he pointed out.