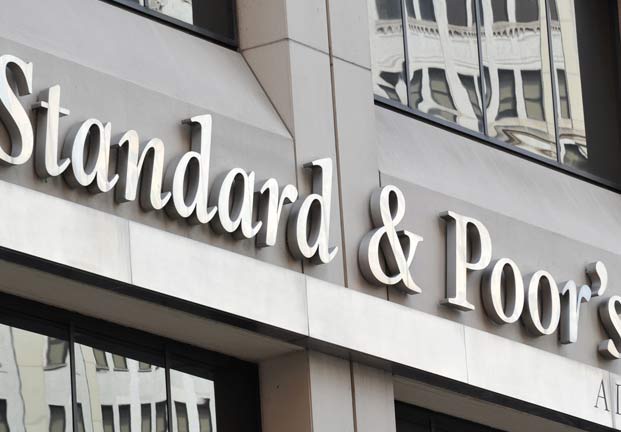 Dashing government's hopes of an improved credit rating, global ratings agency S&P today retained India's sovereign rating through 2017 at 'BBB-' with a stable outlook despite policy stability and reforms rating, triggering a strong reaction from the government. 
Maintaining the lowest investment grade rating, the agency ruled out any upgrade in two years, saying it wants to see more efforts to lower government debt to below 60 per cent of GDP and that it did not expect revenues to rise enough to meaningfully lower the deficit over the medium term. 
The status quo in the rating triggered an angry reaction from the government with Economic Affairs Secretary Shaktikanta Das saying that upgrade did not come despite the fact that reforms undertaken by India were unparalleled to any major economy anywhere in the world and that calls for 'introspection' on part of the rating agencies. 
"If the rating has not been improved, it's a matter which doesn't bother us so much. It's a question which calls for an introspection among those who do the rating," Das said. 
Das said global investors feel India is highly "under-rated".
Stating that there was a "disconnect" between what the rating agencies think and investor perception of India, he said the government would continue to take measures to strengthen the economy, boost GDP growth rate and create jobs. 
"The stable outlook balances India's sound external position and inclusive policy making tradition against the vulnerabilities stemming from its low per capita income and weak public finances," S&P Global Rating said in a statement. 
The outlook, it said, "indicates that we do not expect to change our rating on India this year or next, based on our current set of forecasts". 
Like S&P, Fitch Ratings also rates India at 'BBB-minus', the lowest investment-grade, with a 'stable' outlook. Moody's Investors Service rates India at an equivalent 'Baa3', but with a "positive" outlook. 
In September, another global rating agency Moody's had termed India's reforms slow with muted private investment and NPAs a challenge, and had said it could upgrade India's rating in 1-2 years if it is convinced that reforms are "tangible". 
Das cited various steps taken by the government in last two years, including building strong external position, controlling inflation and structural reforms like the Goods and Services Tax and bankruptcy code, saying that globally investors recognise these. 
"If you compare the various factors which the report itself talk about, is there any other economy that equals this? So with all this if there no improvement I think it's a matter for the rating agency itself to put a question to itself and perhaps undertake a kind of introspection," Das said. 
The government will continue to adhere to the path of economic reforms, the various policy initiatives, he said, adding that the reforms will continue and it's for the rating agencies to take their own view. 
'BBB-' indicates lowest investment grade rating. S&P said the upward pressure on the credit ratings could emerge if the government reforms markedly improve India's fiscal performance and pushes down the level of net general government debt below 60 per cent of the GDP. 
Currently, government debt amounts to about 69 per cent of the GDP. 
S&P said improvements in policymaking continue to strengthen and flagged wide fiscal deficits, a heavy debt burden, and low per capita income as concerns. 
Downward pressure on the ratings could re-emerge if growth disappoints as a result of stalling reforms or if interest rate-setting monetary policy committee does not achieve inflation targets. 
A higher-than-expected deterioration in the nation's external liquidity position could also put downward pressure on ratings, S&P added. 
The rating agency expects India's economy to grow 7.9 per cent in 2016 with current account deficit at 1.4 per cent of the gross domestic product. It also expects the RBI to meet its inflation target of 5 per cent by March 2017. 
S&P had last in September 2014 upgraded India's rating to stable from negative.
The ratings on India reflect the country's sound external profile and improved monetary credibility, S&P said, adding the country's strong democratic institutions and a free press promote policy stability and predictability. 
Lauding government efforts to build consensus to pass the long pending GST Bill, the ratings agency said it would bring in comprehensive tax reforms through the likely introduction in the first half of 2017. 
Other measures include strengthening the business climate, boosting labour market flexibility and reforming the energy sector, it said. 
"We believe these measures, supported by India's well-entrenched democracy, will promote greater economic flexibility and help redress public finances over time," S&P said. 
The ratings agency further said that India's external position remains a credit strength and it has a floating exchange rate and limited reliance on external savings to fund the growth. 
Besides, the authorities also maintain contingent financing facilities of USD 68 billion through bilateral swaps and contingency reserve arrangements, it added. 
On India's rating constraint, S&P said the issue is its low GDP per capita at USD 1,700 in 2016. 
However, India's growth outperforms its peers and is picking up modestly, it added. 
The US-based rating agency expects India's GDP to grow 7.9 per cent in 2016 and 8 per cent on average over 2016-2018. 
"We believe domestic supply-side factors will increasingly bind economic performance and the government has little ability to undertake countercyclical fiscal policy given its current debt burden," it said. 
This debt load and India's overall weak public finances are additional rating constraints, it said. 
India has a long history of high general government fiscal deficits (averaging 8.8 per cent of GDP over the past 20 years and 7 per cent in the past five years). 
The deficits have not closed India's sizable shortfalls in basic services and infrastructure, S&P said, adding the country's fiscal challenges reflect both revenue under-performance and constraints on expenditure. 
It said India's high fiscal deficits have led to the accumulation of sizeable general government borrowings (about 69 per cent of GDP, net of liquid assets). 
(With PTI inputs)