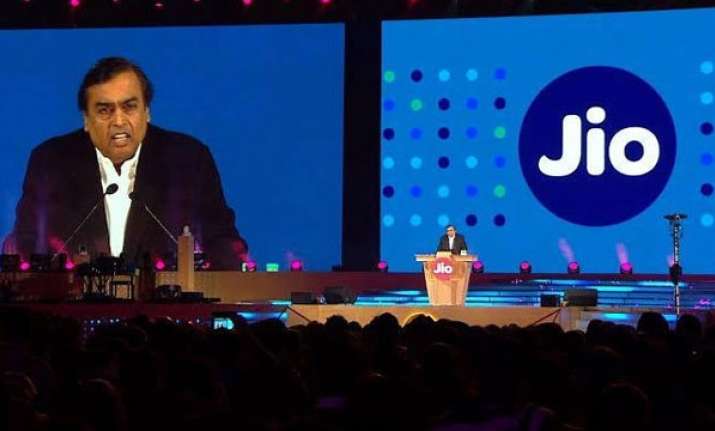 Reliance Jio is set to storm the telecom market as the company rolls out its full-fledged 4G services from today. The entire Reliance Jio network runs on data, which means even voice calls are data-powered.
Last week, Mukesh Ambani revealed plans of his Rs 1,50,000 crore ambitious start up offering free voice calls and 1 GB data at Rs 50 signalling the arrival of a new digital era.
Here's everything you need to know about the Reliance Jio 4G network 
1. Availability
The Jio SIM -- which so far was available only at Reliance Digital stores only -- will now also be offered through multi-brand outlets and mobile phone shops.
"The SIMs will be available at nearly two lakh stores across the country, including locations where SIMs from other vendors are also sold," sources said.
The process of procuring the SIM, said sources, will now be simpler with eKYC, which does not require consumers to physically fill out lengthy forms and wait for an equally lengthy verification process.
The form filling and verification is done using Aadhaar data and the customer's fingerprint and the facility is being rolled out at various locations.
So, if you have an Aadhaar card, we recommend carrying that for the eKYC process as it greatly simplifies the activation process.
2. Volte enabled phones needed to make calls on Jio network
Users must have a 4G-enabled smartphone. Even better still if they have a 4G VoLTE-ready smartphone as well. While 4G LTE will be uses for data purposes, 4G VoLTE is required for HD voice calling. 4G is a hardware-based feature and VoLTE is software-based. Only VoLTE capable phones will be able to make calls on the Jio network. You can still use 4G phones that support Jio's LTE band, but you will not be able to make calls unless your phone supports VoLTE. Tthough Reliance Jio is offering its JioJoin app as a workaround. 
A major beneficiary of the offer would be users of devices like iPhone, Xiaomi, Motorola and Lenovo who were not a part of the preview offer so far. RJio, which had already roped in 1.5 million users in the test phase, is gunning for 100 million users at the shortest possible time.
Nearly 20 brands including Sony, Sansui, VideoconBSE -0.10 %, LG, Samsung, Micromax, Panasonic, Asus, TCL, Alcatel, HTC, Intex, Vivo, Gionee, Karbonn and Lava were part of the preview offer which provided free 90-day unlimited calls and high-speed mobile broadband trials to 4G smartphone users of these brands.
3. Data plans
 It has already been declared that Reliance Jio will not charge for voice calls and national roaming will be free as well.Ambani claims Jio's data plans are the cheapest in the world at Rs 50 for 1GB. Reliance Jio prepaid 4G plans start for as low as Rs 19 and goes all the way up to Rs 4,999.
The offer is now being rebranded as a 'welcome offer', which from September 5 will provide unlimited services till up to December 31 (both prepaid and postpaid), after which users have been promised voice calls - both local and STD - as well as roaming free of cost, for life.
Prepaid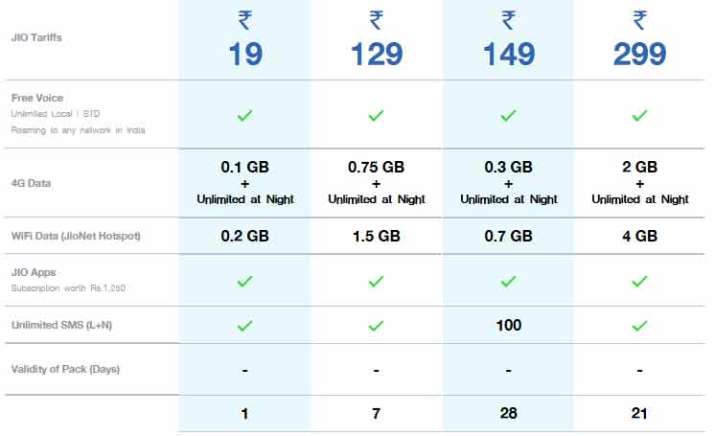 Postpaid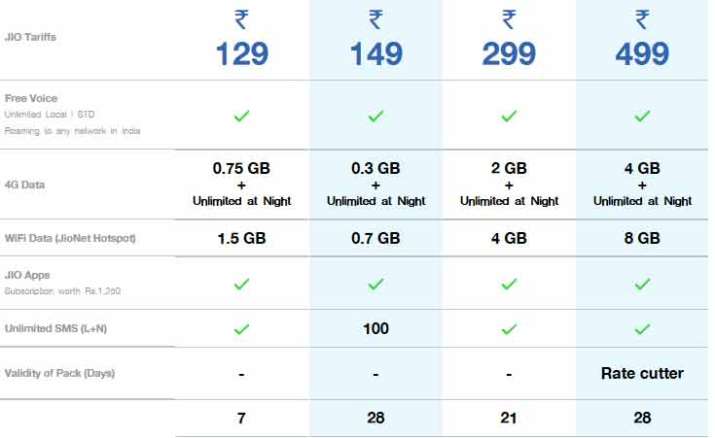 4. Jio apps and services
Reliance is also offering a Jio apps bouquet worth Rs 15,000, complimentary to all active Jio customers up to December 31, 2017. Jio is promoting its apps and services in a big way, from the JioNet app that lets you use Jio's network of Wi-Fi hotspots, to its video-on-demand app, and a music streaming app, and more. 
5. Reliance JioFi
If you are thinking about using Reliance Jio at home, or using it with your existing phone that doesn't support 4G, you should check out the JioFi. Simply put, it's a 4G device with a built-in Wi-Fi router and a battery, that can bring more than one device onto the Reliance Jio network. It's available at Rs. 1,999 .