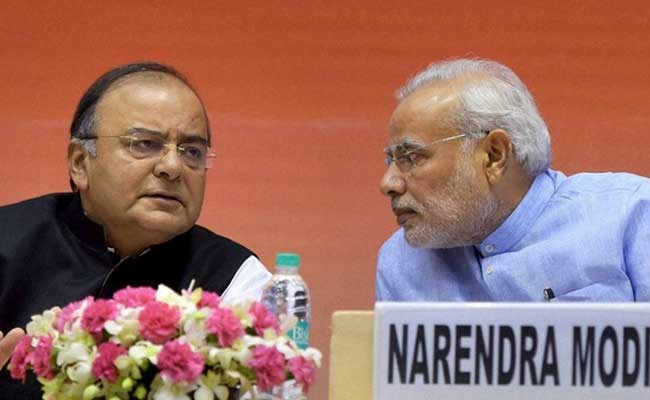 Prime Minister Narendra Modi on Wednesday reviewed the preparation to roll out India's most transformative tax reform in decades, Goods and Services Tax or GST regime, possibly from April 1 next year, with Finance Minister Arun Jaitley and his team making a presentation on the milestones achieved and the road ahead.
Jaitley, along with Finance Secretary Ashok Lavasa and Revenue Secretary Hasmukh Adhia, made a presentation to the Prime Minister on the state of readiness for creation of a national sales tax (or GST), the biggest tax reform since the Independence.
The presentation came within days of the Union Cabinet approving setting up of all powerful GST Council, which will decide on the tax rate, exempted goods and the threshold.
Official sources said besides listing milestones achieved so far, the presentation detailed the steps to follow including the timetable to get the supporting legislations approved.
Sources said the Prime Minister wanted to understand the main areas where he should focus his mind on. Also, he wanted an update on the revenue neutral rate, IT backbone being developed and concerns of the states.
The first meeting of the GST Council, which will be headed by Finance Minister, will be held on September 22-23, and the panel is to give its recommendations on the tax rate and other provisions within 60 days.
The Prime Minister was also briefed about the widespread demand for keeping GST rate at 18-19 per cent, expectations of states from the new regime and the impact of different tax slabs on the Centre in terms of compensation it has to pay states for loss of revenue.
The government is keen to implement the new regime from April 1 so as to ensure a smooth rollover to the changed tax structure from the beginning of the new fiscal and avoid mid- year alterations.
Sources said GST implementation is running ahead of schedule so far, within more than anticipated number of states ratifying the Constitutional amendment within the 30-day timeline set by the Centre.
The focus now shifts to creating the IT infrastructure and preparing traders, businessmen and companies to smoothly shift to the new taxation regime that will subsume an array of central and state levies including central excise duty, service tax, VAT and entry tax.
Parallely, the supporting legislations -- Central GST (CGST) and Integrated GST (IGST) -- details the tax rates, exempted goods and bands, is planned to be approved in the Winter Session of Parliament in November, sources said.
(With inputs from PTI)