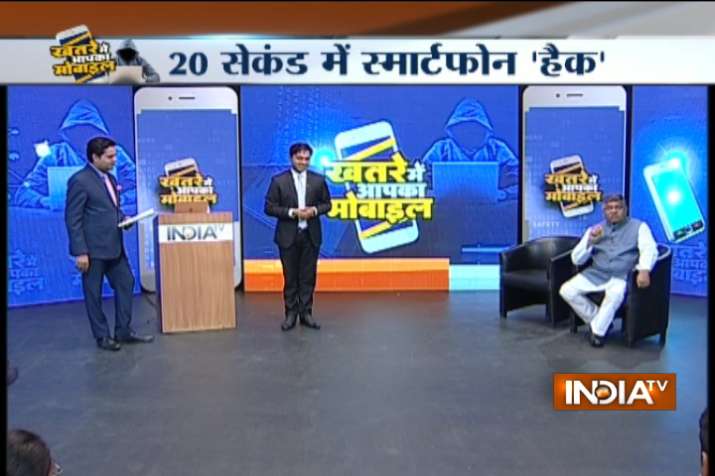 "Your smartphone can be hacked in 20 seconds." Yes, you heard it right. With India embracing digital innovation, more and more people are using smartphones in their day-to-day lives. Smartphones have now become an integral part of our lives and we can hardly imagine a world without our smartphones. However, as we are becoming increasingly dependent on our mobile devices for almost everything in the scope of imagination, are we really smart enough to use our smartphones? Probably, no. 
Smartphones make our work easy in many ways but at the same time they also make us vulnerable to various kinds of cyber crime which we probably have no idea of dealing with. 
"99 per cent people use their mobile phones as a black box. They are unable to understand what it is," said Saket Modi, an ethical hacker and CEO of Lucideus Tech, at a special programme on mobile hacking on India TV.
Modi's cyber security firm Lucideus provides security services to various government agencies, including the National Payments Corporation of India, responsible for managing all retail payment systems in the country.
During the course of the show, which was also graced by Ravi Shankar Prasad, Minister of Law and Justice and
Electronics and Information Technology, Modi gave a demonstration on mobile hacking.
He casually asked for a smartphone from the audience and with utmost ease hacked it within a mere 20 seconds. Yes, that's all the time it took him to get through the phone's call logs, text messages, contact book, current location and also GPS history. 
However, Modi claimed that whatever he did with the phone was not hacking after all. Modi said that he just run a mobile application, a small file of around 20 kb without any kind of logo so as to keep it hidden. He then granted the application all the permissions - just like popular apps such as Whatsapp, Facebook and Google are given by the owners of the mobile phones. The only difference here, as Modi pointed out, was he showed it on a screen.  
According to Modi, all phones are hackable - Apples and Androids - and even passwords cannot keep them protected.
So, what can be done to protect the phones from getting hacked?
It's simple. Don't ever hand it over to any unknown person just like you don't give your home and car keys to strangers. "My objective is to tell you (people) that never allow anyone to access your mobile. Even a standard 12th student can hack your mobile. My intention is not to create an atmosphere of fear," Modi said.
Modi added that people should not click on every link that they get on whatsapp or download the apps which are of no use to them.