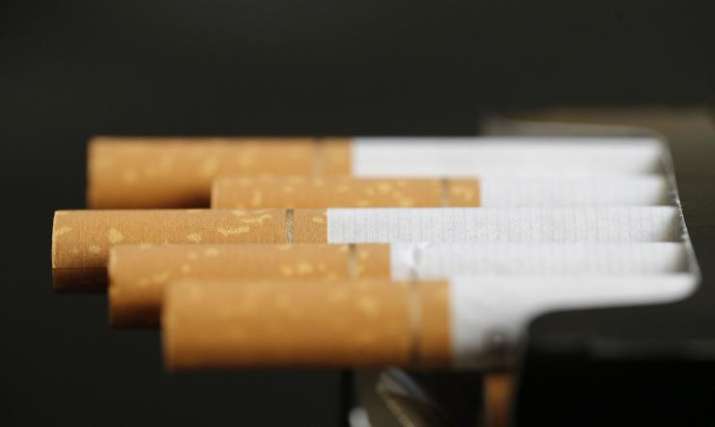 Markets opened on a dull note today with the BSE Sensex and Nifty falling sharply after the GST Council's decision to hike the compensation cess on cigarettes as well as weaker Asian cues. Shares of ITC fell sharply, losing over 15 per cent, before recovering marginally. ITC share price stood at 287.95, down 37 points or around 11 per cent. The BSE Sensex, on the other hand, dropped significantly after gaining 54.03 points to close at an all-time high of 32,074.78 in Monday's trade. The index opened at 31,775 points and touched a low of 31,626 points, registering a loss of around 450 points since yesterday's trade.
The NSE Nifty too fell 123.90 points, or 1.24 per cent to trade at a low of 9,792.05. It had closed at a record high of 9,915.95 points in Monday's session.
ITC led the losses in the market, registering a drop of 15 per cent after the GST Council decided on Monday to hike the compensation cess on cigarettes in an attempt to take away the Rs 5,000 crore windfall that the manufacturers could have made from lower GST rates. "In the first 15 days of GST implementation, it was noted that 28 per cent tax plus compensation cess on cigarettes, when translated, had not factored in the impact of cascading effect, resulting in windfall gains for cigarette companies," Finance Minister Arun Jaitley said.
Cigarettes have been kept in the highest GST slab of 28 per cent in line with the weighted average VAT rate of 28.7 per cent in the earlier regime. The compensation cess on cigarettes consists of two components -- an ad valorem tax of 5 per cent and a numerical amount on each category of filter and non-filter varieties. While the ad valorem remained the same, the GST Council announced a hike in the numerical amount depending on the length of cigarettes.
As per Monday's decision, the numerical cess has been raised to Rs. 2,076 per 1,000 units for non-filter 65 mm cigarettes; for non-filter 65-70 mm cigarettes it is Rs. 3,668 per 1,000 units. For filter category, 65 mm cigarettes will be charged Rs. 2,076 per 1,000 units, 65-70 mm will be charged Rs. 2,747 per 1,000 units and 70-75 mm will be charged Rs. 3,668 per 1,000 units. For other filter cigarettes the ad valorem has been increased to 36 per cent plus Rs. 4,170 per 1,000 units.
The new tax rates came into effect from Monday midnight, Jaitley said.
Shares of other cigarette makers like Godfrey Phillips India and VST Industries also fell as much as 10.35 per cent and 8.3 per cent respectively.
ITC shares had surged to a record high of Rs 353.20 on July 3 as the overall GST rates were reducing the overall tax incidence on cigarettes. On Monday, the stock fell 3.4 per cent to Rs 325.75 ahead of the announcement on increase in cess on cigarettes.