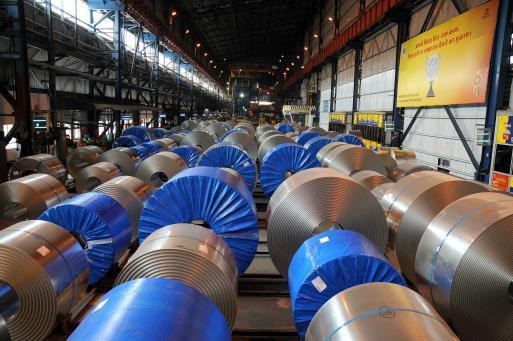 India's annual retail inflation eased by 100 basis points to 5.05 per cent in August, but industrial production contracted by 2.4 per cent in July registering its worst performance in eight months mainly on account of declining output in manufacturing and capital goods sectors.
On cumulative basis, the factory output in April-July declined by 0.2 per cent compared to 3.5 per cent growth in the year-ago period.
The fall in retail inflation, as per data released by the Central Statistics Office (CSO), was thanks to a rather sharp drop in the annual food inflation -- from 8.35 per cent in July to 5.91 per cent in August.
As far as the factory output is concerned, the drag was due to a negative growth of (-)3.4 per cent in the manufacturing sub-index, which enjoys the maximum weight in the main index, even as the growth rates in mining and electricity indices were also modest.
In May the factory output was up 1.1 per cent, while in April it took a hit of (-)1.4 per cent. In July last year, there was a growth of 4.3 per cent. Cumulatively, the growth during the first four months of this fiscal is at (-)0.2 per cent.
This being the last set of data release on retail inflation and industrial production, ahead of the next bi-monthly monetary policy update due on October 4, expectations have risen sharply on possible interest rate cut.
This, also because the annual retail inflation that was above the upper tolerance level of six per cent in July, has since come down by 100 basis points, even though it is still above the base rate of four per cent. 
The government target is four per cent plus or minus two percentage points for the next five years.
(With IANS inputs)