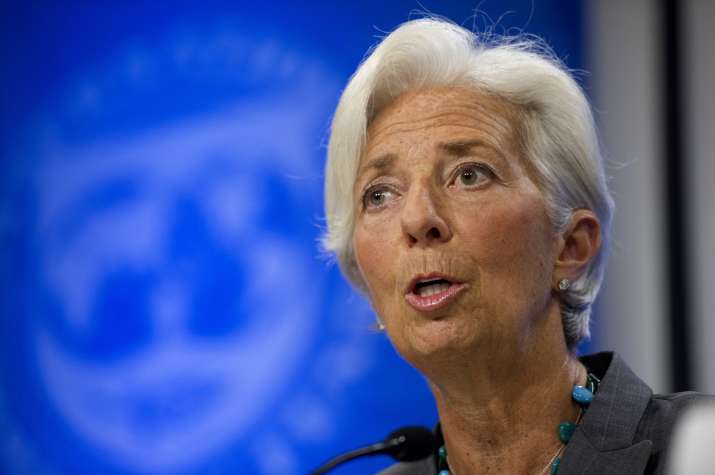 Washington: Britain's decision to leave the European Union creates a wave of uncertainty amid already-fragile business and consumer confidence and will reduce global economic growth this year and next, the International Monetary Fund today said.
The IMF said Tuesday that it is shaving its estimate for worldwide growth to 3.1 percent this year and 3.4 percent in 2017. Both estimates are 0.1 percentage points lower than the bank's previous forecast in April.
The monetary body also trimmed India's growth projections to 7.4 per cent for 2016 and 2017, a drop of 0.1 per cent from its previous forecast.
Updating its growth projection from the one it issued in April 2017, the IMF said in 2016 and 2017 India is projected to grow at a rate of 7. 4 per cent. This it said is a drop of 0.1 per cent in both the years.
"In India, economic activity remains buoyant, but the growth forecast for 2016-17 was trimmed slightly, reflecting a more sluggish investment recovery," the IMF said.
In 2015, the Indian economy grew at 7.6 per cent.
The U.K. economy will expand 1.7 percent this year, the IMF said, 0.2 percentage point less than forecast in April. Next year, the nation's growth will slow to 1.3 percent, down 0.9 point from the April estimate and the biggest reduction among advanced economies. 
For the euro area, the Fund raised its forecast by 0.1 point this year, to 1.6 percent, and lowered it by 0.2 point in 2017, to 1.4 percent.
"The Brexit vote implies a substantial increase in economic, political, and institutional uncertainty, which is projected to have negative macroeconomic consequences, especially in advanced European economies," according to the IMF's World Economic Outlook Update released today.
"Brexit has thrown a spanner in the works," said Maurice Obstfeld, IMF Chief Economist and Economic Counsellor. And with the event still unfolding, the report says that it is still very difficult to quantify potential repercussions.
IMF chief economist Maurice Obstfeld said the bank was prepared "as of June 22" — the day before Britain's vote — to slightly mark up its global forecast, citing unexpectedly strong growth in Europe and Japan and a partial rebound in global commodity prices. "But Brexit has thrown a spanner in the works," Obstfeld said.
Britain must now renegotiate its trade relationship with Europe, creating uncertainty that could erode consumer and business confidence and freeze investment.
The world's two biggest economies — the United States and China — are unlikely to sustain much damage from the tumult in Europe, the IMF said.
The IMF earlier downgraded its forecast for U.S. growth this year to 2.2 percent, after the American economy got off to a slow start this year, partly because a strong dollar pinched exports.
The fund has raised its forecast for Chinese growth this year to 6.6 percent (from an April forecast of 6.5 percent). The improvement reflects economic stimulus from five interest rate cuts last year and an increase in government spending on infrastructure.
Sub-Saharan Africa continues to struggle with the fallout from last year's freefall in commodity prices. The Nigerian economy is expected to shrink 1.8 percent, a dramatic turnaround from the IMF's April forecast for 2.3 percent growth. The South African economy is forecast to eke out 0.1 percent growth.