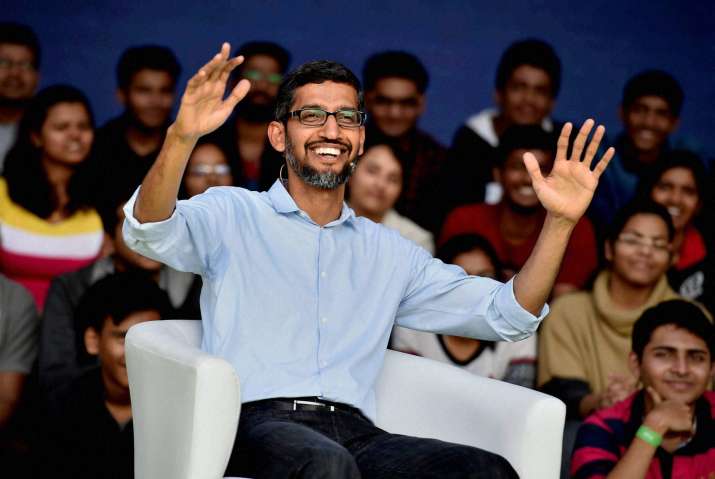 Google CEO Sundar Pichai on Thursday had an interesting session with the distinguished alumnus at IIT Kharagpur and answered questions from students at an open-air theatre in the campus.
The session held at IIT-Kharagpur was titled 'A journey back to the past to inspire the future' in which Pichai narrated his life on campus.
Here's what he said:
1. Pichai started his interaction with the students by narrating his experience at IIT-Kharagpur. "Getting into IITs involves a lot of hard work. However, getting into a prestigious institute doesn't ensure success," he said.
2. The Google CEO also pointed out difficulties in calling girls from their hostels when there were no smartphones. Incidentally, his wife Anjali and Sundar were classmates. Narrating a personal experience when on campus, Sundar said: "I met Anjali at IIT-K and she was my classmate. Just to go get someone at the girl's hostel, you had to walk in the front and request someone to call them. And they'd go in and loudly say – Anjali, Sundar is here. It wasn't exactly a pleasant experience."
3. When asked how things had changed in terms of technology, he said, "We didn't have phones back then. I remember waiting for a long time to get a rotary phone at home. Didn't have access to computers growing up. Clearly the progress has been phenomenal."
4. Sundar recalled an incident from his college days where he called out to someone saying, 'Abey Saale'. "As a freshman, couple of weeks into being here.. I came from Chennai. I had learnt Hindi in school but never spoke much. Just listening to other people, I thought that's how you address people. One day, there was someone in the mess, and I had to call him, and I called him Abey Saale. In my first couple of weeks I thought you call people that way. Next thing, I know folks in the mess were quite upset, and they closed down the mess temporarily."
5. "Don't feel the pressure of what others are telling you. Devote time to what you love," said Pichai on managing time between academics and extracurricular activities at IITs.
6. One of the most interesting incidents he narrated to the gathering at Kharagpur was about his interview at Google. "I interviewed at Google on April 1, 2004, which is April Fool's Day. Google had just announced Gmail and it was invite-only. But people weren't exactly sure if it was an April Fool's joke. So, I remember doing my interviews during the day and people kept asking me what do you think of Gmail, but I didn't have a chance to use it and I thought it was an April Fool's joke."
7. From his initial days of college he said he was ragged pretty mellow. As a freshman, he once came back to find everything, including clothes and furniture in his hostel room, rearranged despite the door being locked.
"I was made to carry baggage across the railway platform at Kharagpur station by my seniors -- and it is a long platform." he recalled.
8. Pichai said he often jokes that the only reason he got into Google was because co-founder and Alphabet Chief Executive Officer Larry Page did not interview him. "I still joke that I got into Google because Larry didn't interview me," he said.
9. On a question from one of the students on the power he wields at Google as CEO and whether he could arrange a Google Doodle for his alma mater, Pichai promptly took his phone out of his pocket saying, "Let me just text my team to do that". However, he explained that the organisation has set certain standards for when a Doodle is to be put out and how, and said that the institution deserves to be celebrated, and that he will be looking forward to putting the institute on Google Doodle in the most "thoughtful way possible."
10. Pichai also said, "It's shocking that people start preparing for IITs in their 8th grade. It's absolutely okay if you don't make it to IITs. Life is much bigger than that and it really doesn't matter whether you are from IIT or not."