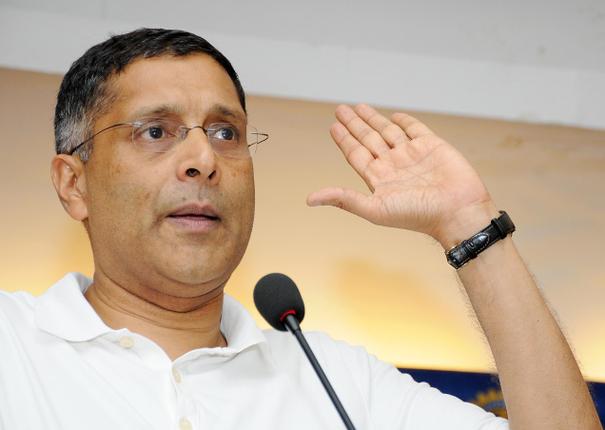 Chief Economic Advisor Arvind Subramanian has said that the Goods and Services Tax (GST) Council's decision to peg the tax rate on items of mass consumption at 5 per cent will bring down prices and soften inflation. 
"On average this should probably serve to lower inflation. If at all, the impact on inflation will be very small. Today's change should probably bring it down," Arvind Subramanian said. 
"The modified GST proposal will bring prices down. I don't think there is any fear on inflation because 6 per cent goes to 5 per cent. A few products move from 26 to 28 per cent but many go from 26 per cent to 18 per cent.," he added.
Subramanian further said that the mood at the GST Council meeting was "very good" and rate structure was decided on the basis on unanimity. 
At its meeting headed by Finance Minister Arun Jaitley, the Council agreed on a 4-tier tax structure -- 5, 12, 18 and 28 per cent—for the Goods and Services Tax (GST) which the government proposes to roll out from April 1, 2017.  
The GST Council decided that items of mass consumption be taxed at 5 per cent as against the centre's proposal of 6 per cent. It also decided that at the higher end the tax be raised to 28 per cent as against the proposed 26 per cent. 

 

(With PTI inputs)