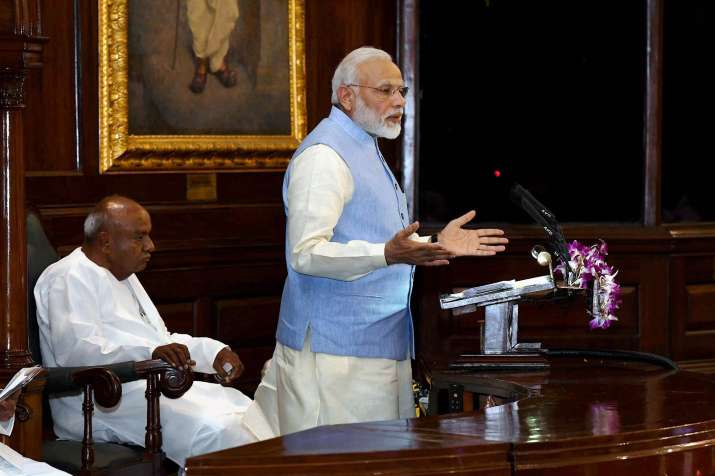 The Goods and Services Tax (GST), country's biggest tax reform since Independence, was jointly rolled out by President Pranab Mukherjee and Prime Minister Narendra Modi at a gala event organised in the Central Hall of Parliament. A minute after the stroke of midnight, Mukherjee and Modi pressed a button to launch the new indirect tax regime on a digital screen with 'GST' emblazoned on it in a golden hue.
Addressing the gathering here, Prime Minister termed the GST as a 'good and simple tax regime' that will eliminate the compounding effects of multi-layered tax system. He also said that the GST will bring a transparent and fair system that will prevent black money and corruption and promotes new governance culture.
Here are the top quotes from Narendra Modi's speech:
PM Narendra Modi quoted Albert Einstein, saying: "He had once said that if there is one thing that is most difficult to understand, it is income tax. I wonder what he would have said had he seen our tax system."
"GST will free the common man from tax terrorism and inspector raj. Besides being a transparent and fair system that will end generation of black money and corruption, GST will promote new governance culture that will end harassment at the hand of tax officials."
Modi also sought to distance himself as well as the BJP of trying to usurp credit for the rollout of the reform. "GST is a combined legacy that belongs to all of us. The legacy of GST doesn't belong to one government or political party. GST is the result of the combined efforts of all political parties."
He also invoked Sardar Vallabh Bhai Patel and his idea of national integration. "Imagine what India would have looked like today had Sardar Vallabhai Patel hadn't united all states. Similarly, GST is the economic integration of India."
Modi then invoked the Bhagvad Gita. "Today, the GST Council had its 18th meeting. It is a coincidence that the Bhagavad Gita also has 18 chapters."
Allaying the fear of apprehensions regarding the change that GST will bring, the PM said that any change requires some adjustment. "Even eyes need to adjust to new spectacles."