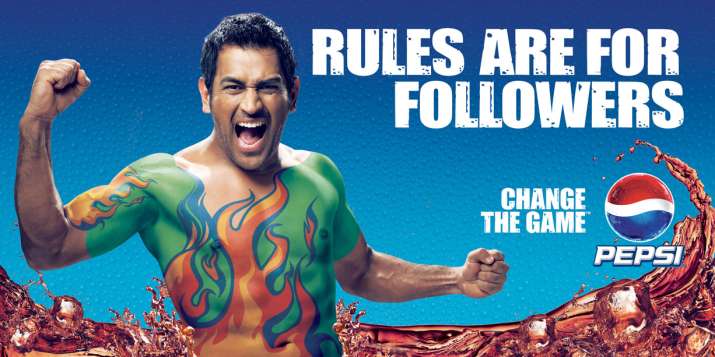 India's limited-over skipper Mahendra Singh Dhoni's 11-year contract with PepsiCo has finally come to an end. 
According to an Economic Times report, Dhoni's association with PepsiCo was inked way back in 2005 with 'Oh Yes Abhi' and 'Change The Game' being the company's biggest campaigns that featured him. 
"At PepsiCo, our focus in advertising and marketing is to make our products the hero and celebrate the hero," PepsiCo VP for beverages Vipul Prakash was quoted by Economic Times as saying. 
"The idea will always play the most important role. If there's a role for the celebrity that helps take forward the idea of celebrating our product, we're more than happy to taking it further," he further added. 
This indicated that the marathon journey of Dhoni, who has been the face of both Pepsi Cola and Lay's Chips, is slowing down with time. 
PepsiCo has been known for being associated with A-listers from sports and Bollywood and the celebrities currently endorsing company's brands include cricketer Virat Kohli and actors Ranbir Kapoor and Parineeti Chopra. 
According to Forbes magazine's listings for 2016, Dhoni, one of the world's highest paid athletes, earned Rs 180 crore from endorsements, while his salary and professional earnings were about Rs 27 crore. 
On the other hand, experts believe that the reason why Dhoni's run with advertisers may be tapering is that Kohli has emerged as the new icon, who is said to be charging close to Rs 2 crore a day against Rs 1.5 crore by Dhoni. 
"While Dhoni has had his place in the sun, it's the younger ones like Virat with whom advertisers with youthful brands are likely to resonate with now," said entertainment marketing company Percept's joint managing director Shailendra Singh. 
Until 2014, Dhoni endorsed as many as 18 brands, which included Pepsi, Reebok, Sony, TVS Motors, Boost and Dabur and charged Rs 10-12 crore each. However, as of now, the number of brands has gown down to less than 10.