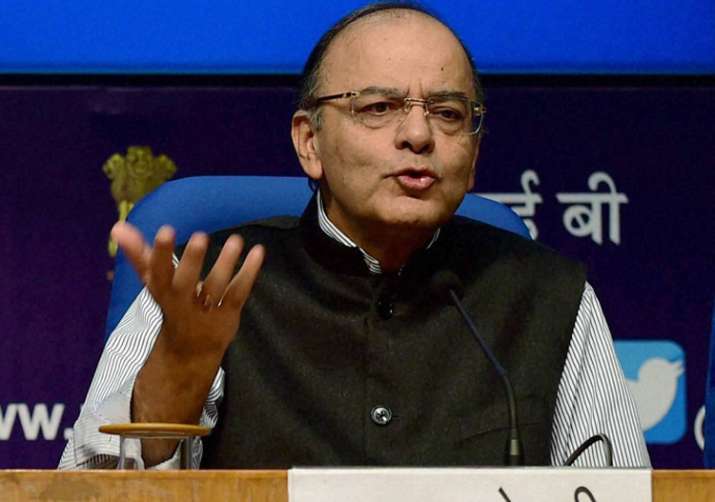 Demonetisation of Rs 500 and Rs 1,000 notes will expand the size of economy, increase revenue base and make the system cleaner while preserving its credibility, Finance Minister Arun Jaitley said today. 
Addressing the media for the first time since the demonetisation of notes by Prime Minister Narendra Modi, Finance Minister Arun Jaitley on Wednesday said the aim of the government is to get rid of black money.
Addressing the media a day after the government scrapped higher denomination currency, Jaitley said the aim of the government is to get rid of black money. 
Jaitley said honest citizens would realise that "it pays to be honest and will have the satisfaction to be honest". 
In a surprise move, Prime Minister Narendra Modi yesterday announced demonetisation of Rs 500 and Rs 1,000 notes and introduction of the new Rs 500 and Rs 2,000 ones with additional security features. 
Declaring a "decisive" war against black money and corruption, Modi also listed a raft of steps to assure commoners that their money is safe. 
The decision, Jaitley said, "will expand the GDP and make (the economy) cleaner. It will push revenue and more money will come into the banking system". 
Admitting that it will cause some inconvenience to the people, he said larger benefits will accrue to the economy in the long term. 
As an exception, till November 11 midnight, people will be able to use the withdrawan currency notes for metro tickets, toll plazas, LPG gas cylinders, railway catering and ASI monuments entry, he said, adding that these would be in addition to certain exceptions announced yesterday. 
The demonetisation of currency notes, the minister said, is part of the drive undertaken by the NDA government to check the menace of black money in the country. It had earlier came out with two schemes to deal with the problems of black money stashed abroad and kept at home. 
Jaitley said: "Entire society has welcomed the decision. India's credibility will be preserved in the eyes of the world." 
He added that the whole chain of the black economy will run into difficulty after the GST is implemented "as tracking of cash flow will become easier. The move is an attempt to change the spending habit and lifestyle". 
Stressing that the decision is a significant advantage to the economy, the minister said the states too will be benefit with the revenue kitty going up. 
Jaitley sought to assuage anxious public saying banks and post offices would start giving out high denomination replacement notes from tomorrow.
The Reserve Bank of India (RBI) has also ordered banks to remain open full day on Saturday and Sunday to deal with the rush of people wanting to deposit the defunct currency bills. Besides, many banks would work extra hours tomorrow and the day after. 
Besides, it expanded the list of areas where the withdrawn notes will be accepted till November 11 midnight. 
A 72-hour relaxation for use of such notes was given yesterday for government hospitals, railway ticketing, public transport, airline ticketing counters at airports, milk booths, crematoria/burial grounds and petrol pumps. 
Banks and ATMs were shut today to remove old Rs 500/1000 notes and stock them with lower denomination and new hard-to- fake Rs 500 and Rs 2,000 currency notes. Banks will open tomorrow as RBI has sent truckloads of new notes throughout the country, while some ATMs will begin dispensing cash. 
"Through RBI's currency chest, adequate currency is (being) provided in all banks and post offices. But it would require 2-3 weeks for full adequate replacement. It would begin tomorrow morning," Finance Minister Arun Jaitley told reporters here. 
Withdrawal limitations - Rs 2,000 a day from ATM per card and Rs 10,000 through bank account on a day and Rs 20,000 in a week, will continue for some time, he said. "As and when more currency comes into banking system, there will be a rethink on those limitations." 
Officials said that while honest tax payers as well as housewives and farmers with genuine savings have nothing to worry if they deposit old currencies in their bank accounts and take out replacement ones, tax authorities would keep a close watch on high-value deposits made from illicit sources, black money or crime money. 
Housewives, farmers and those whose annual income is within the tax exemption limit may not be hounded by tax authorities for depositing up to Rs 2.5 lakh of the now- defunct higher denomination currency notes in bank accounts. 
"It should be clear that it is no immunity scheme. This (deposit) does not provide any relief from taxation. The law of land will apply (on source of fund)," he said. 
"If the money is legitimate which had been previously withdrawn from bank or earned legally and saved and had been disclosed, there is nothing to worry about," he added. 
(With PTI inputs)