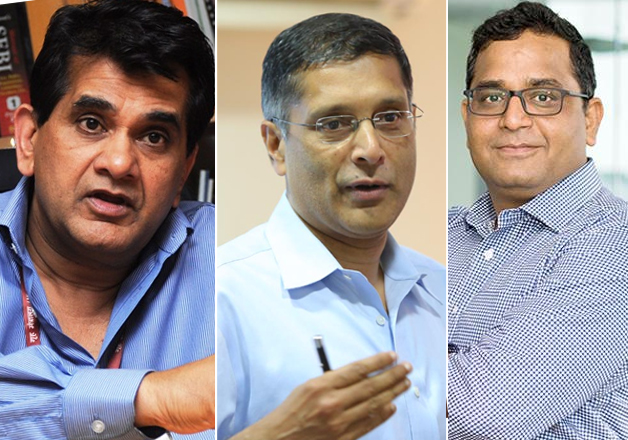 The government today invited all out praise from Chief Economic Advisor (CEA) Arvind Subramanian, Niti Aayog Chairman Amitabh Kant and Paytm CEO Vijay Shekhar Sharma for presenting a people friendly Budget.
Speaking to India TV, CEA Subramanian said that the government had successfully managed to bring down the fiscal deficit from last few years and will continue in the direction. 
"There are 3-4 things very exciting. Fiscal deficit will continue to go down and thus bringing macro stability. The rebate in tax is a huge relief to middle class. The deduction of corporate taxe for small and medium enterprises is another measure that is very exciting in the budget. Foreign Investment Promotion Board (FIPB) is abolished. This shows the government is serious about election finance. Post demonetisation, real estate and election funding are biggest source of black money. Once GST is introduced, it will curb black money," he said. 
When asked how this budget will attract investment, he replied: "FIPB is abolished. This is will definitely boost the FDI inflow."
On job creation he said, "Greater spending, public investment, giving incentives to small and medium enterprises will automatically affect the growth and create jobs. MNREGA allocation, tax rebate middle class.... if consumption increases it will create jobs. Post demonetisation, more people are paying taxes. The statistics on tax payers presented by the Minister sends a signal that the government has data on who are paying taxes and who are escaping."
Paytm founder Vijay Shekhar said that the budget is apt for a digital economy. 
"The PM and FM have made it clear that we should shift towards digitalisation. The rebate in tax will encourage people to shift towards formal economy, incentives announced will surely be beneficial, it will persuade people to join the main stream. BHIM is another good initiative. Good budget and appropriate for digital economy," he said.
Replying to Congress party's allegation that Paytm means 'Pay to Modi', he said, "Government's agenda is for all not for only one company."
He also noted that allocation in Mudra scheme and the agriculture sector will generate more employment. 
"Mudra, agri sector, cheap and preferred loan are good for business. People can borrow Rs 1-2-3 lakh loan easily and start their business," he said. 
Asked about demonetisation, he said, "Demonetisation was a movement where we all contributed. There is a long term gain... companies where loss was reported due to demonetisation have been given extra benefits and this will help them to expand their business. Time has come to take a long jump." 
NITI Aayog Chairman Amitabh Kant termed the budget very impressive.
"Government has given a big push to electronic manufacturing. FIPM abolished... infra main focus of government, rail, road, waterways. The expenditure especially in  rural... MNREGA allocation, rural, farm sectors saw a whopping 24 per cent hike. When this will increase rural demand, obviously manufactures production will go up," he said.
"Job creation is the main challange. The changes in tax, simplification in schemes, FIPM abolished, political transparency will attract investment. Also digital payment has got a big push. FM's speech was devoted on digital payment, this will lead to easiness and simplicity in doing business," Kant added.
Presenting the first Union Budget combined with Railways Budget for 2017-18 in the Lok Sabha today, Finance Minister Arun Jaitley today said the agenda of the government for the next year is to "Transform, Energise and Clean India (TEC India)". He said that TEC India seeks to transform the quality of the governance and quality of life of people, energise various sections of the society and clean the country from the evils of corruption, black money and non-transparent political funding.
To foster this agenda, the Minister presented Budget under 10 themes on doubling farmers income, rural employment and infrastructure, energising youth, care for poor and underprivileged, infrastructure, stable financial sector, digital economy, effective public service and prudent fiscal management and tax administration.
Jaitley said that the overall approach of the Budget has been to spend more in rural areas, infrastructure and poverty elevation and yet maintain fiscal prudence. He announced major hike in allocations for Ministries of Agriculture, Drinking Water and Sanitation, Health and Family Welfare, New and Renewable Energy, Rural Development, Skill Development and Water Resources for their various schemes.