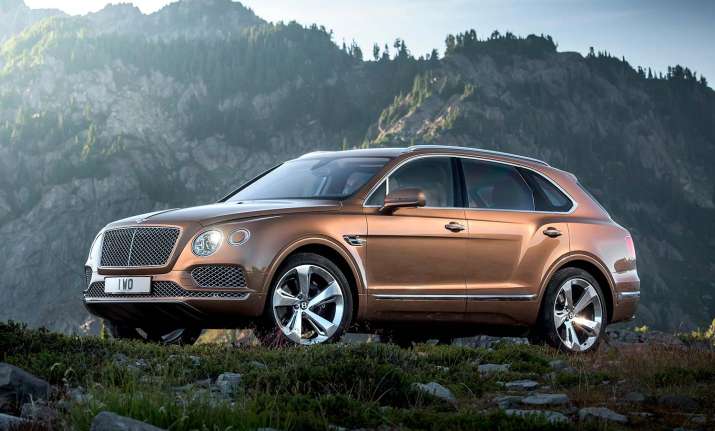 New Delhi: Bentley, the ultra luxury car maker launched its first sports utility vehicle Bentayga in India priced at a starting price of Rs 3.85 crore.
The Bentayga, world's fastest SUV, is powered by 6.0-litre W12 twin-turbocharged petrol engine that generates over 600bhp of output and a torque of 900Nm. It has an 8-speed automatic gearbox, the SUV touches a speed of 100kph in just 4.1 seconds, before the top speed which is 301kph.
The interiors are fit for royalty with a range of 15 naturally tanned leathers for the upholstery and four wooden veneers for the doors. It comes with a 22-way adjustable seats are equipped with ventilation, electric seatbelt adjustment and automatic headrests. Also the Bentayga features a sliding sunroof that covers 60% of the roof area. 
The company's dealer in India, Exclusive Motors, has already received 100 confirmed bookings for the Bentayga. It will start delivering the SUV within two weeks. But it takes a time of about 5-6 months from placing an order to the delivery.
Also read: Volvo Launches S60 Cross Country at Rs. 38.9 Lakh
"The Bentayga is a limited edition vehicle and there is a lot of interest. We have already confirmed bookings in three digits," the managing director of Exclusive Motors, Satya Bagla, said.
"India is growing in the luxury automobile space, and with the arrival of the Bentayga, Bentley will set a benchmark for the ultra-luxury SUV segment," he added.
There are also reports that Bentley will soon open a new showroom with service facility in Hyderabad, which will add to the company's existing outlets in Delhi and Mumbai.
This year Bentley is producing about 2,600-2,700 units of the Bentayga.
Also the British auto competitor Jaguar is all set to launch their first SUV – the F-Pace – this year, but at a price tag of just one-third of the new Bentley Bentayga.