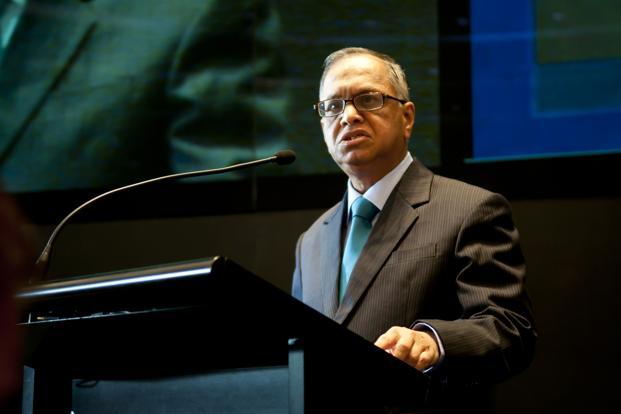 Infosys founder NR Narayana Murthy today responded to the statement by the company holding him responsible for the exit of the IT giant's Chief Executive Officer and Managing Director Vishal Sikka on  Friday.
"I am extremely anguished by the allegations, tone and tenor of the statement. I voluntarily left the board in 2014 and am not seeking any money, position for children or power. My concern primarily was the deteriorating standard of corporate governance which I have repeatedly brought to the notice of the Infosys board," Murthy said in an e-mailed statement.
Murthy's response comes to the official communication by the Infosys board to bourses with regard to Sikka stepping down from the post of MD and CEO. "Mr. Murthy's continuous assault, including this latest letter, is the primary reason that the CEO, Dr. Vishal Sikka, has resigned despite strong Board support," the letter read.
Murthy's letter being cited in the company's communication to bourses is his email dated August 9 that emerged in the media today. Murthy claimed in the email to some of his advisers that three independent directors on the Infosys board had told him that Vishal Sikka was more chief technology officer (CTO) material than chief executive officer (CEO) material.
"Mr. Murthy's letter contains factual inaccuracies, already-disproved rumours, and statements extracted out of context from his conversations with Board members," Infosys said.
In his statement today, Murthy said it was below his dignity to respond to the "baseless insinuations". He said he would respond to the allegations at an appropriate forum and time.
Murthy has been one of Sikka's harshest critics and has raised the issue of deteriorating corporate governance at the company he founded. Sikka has repeatedly come under fire either for the company's decisions regarding hefty severance payouts, his own salary hike or the allegations that whistleblowers levelled against the company with respect to alleged wrongdoings in certain mergers and acquisitions.