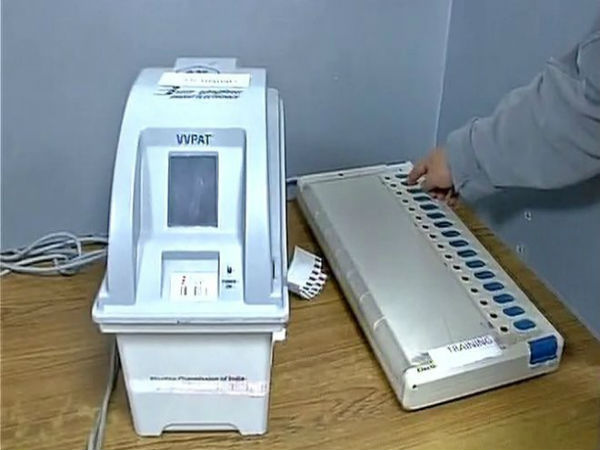 New Delhi: The Election Commission has issued a letter of intent for purchase of 16,15,000 Voter Verifiable Paper Audit Trail ( VVPAT) machines in the next two years to be used in all polling stations in the 2019 Lok Sabha polls. 
The Commission issued letter of intent to ECIL and BEL -- both PSUs -- on Friday, two days after the Union Cabinet cleared its proposal to buy 16,15000 voter verifiable paper audit trail (VVPAT) units at an estimated cost of Rs 3,173.47 crore. 
The poll panel has informed them that the machines would be bought during 2017-18 and 2018-19. 
The Commission will buy 8,07,500 VVPAT units each from the two manufacturers by September, 2018. 
Explaining the importance of the step, the Chief Election Commissioner Nasim Zaidi said today that "this will enhance transparency and uphold the voters' right to know which party he or she has voted, thereby increasing voters' confidence in the free and fair electoral process." 
The poll watchdog said in a statement that these machines be manufactured by both the PSUs only as per the design approved by the Commission based on recommendation of the Technical Experts Committee on EVMs constituted by it. 
"The Commission shall closely monitor the production of VVPATs for timely delivery well before General Elections 2019," it said. 
Sixteen parties had recently petitioned the EC to revert to paper ballot system for greater transparency. The BSP, the AAP and the Congress had attacked the EC on the issue of alleged tampering of EVMs. 
The VVPAT machines leave a paper trail which helps an elector confirm whether the EVM has faithfully registered the vote has has cast to a particular candidate. 
Between September, 2013 and March this year, the Commission has written 38 times to the government on the procurement of VVPATs, according to an affidavit filed by the poll panel in the Supreme Court on the issue. 
The Supreme Court had last week asked the Centre to respond by May 8 to a plea by the Bahujan Samaj Party (BSP) to comply with its 2013 directive to introduce paper trail in EVMs.
The apex court, in 2013, to a petition filed by the BJP leader Subramanian Swamy, had asked the EC to introduce in a phased manner the paper trail in EVM) for the 2014 Lok Sabha elections, saying "it is an indispensable requirement of free, fair and transparent" polls which will restore confidence of the voters.
The Supreme Court has asked the Commission to give a tentative time-frame by which it can use VVPAT machines in all polling stations. 
The EC says ECIL and BEL need 30 months to produce the over 16 lakh VVPATs. 
(With PTI inputs)