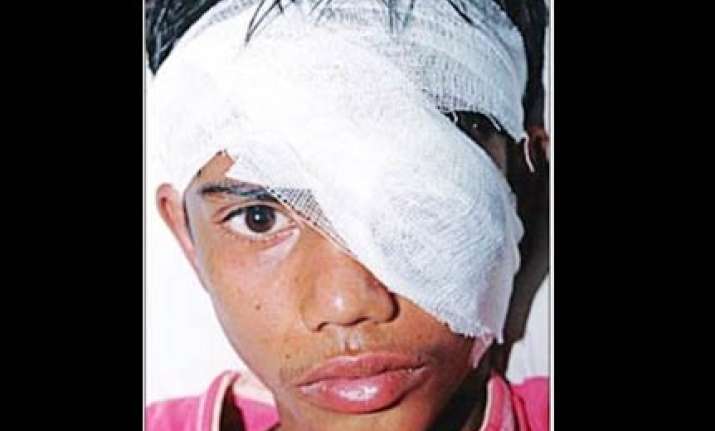 Place: Lohardagga, Jharkhand. Date: April 17 :  The School : Sheila Agrawal Saraswati Vidya Mandir.  
Akash Mahato, a student was beaten up black and blue by his teacher Anita Verma, when he told her that he had not done his homework.  
The teacher went on beating Akash with a hard stick as the boy uttered cries of pain. In the midst of the beating, the teacher's fury went on unabated, and Akash was left with a bruised left eye.  
And now, the whitewashing.  
A school techer Divakar who took Akash to the Kashyap Memorial Eye Hospital in Ranchi told doctors that Akash damaged his left eye while playing, but that was not the case. Akash's father Vijay Mahato and mother Bindu Devi say, the teacher Anita told Akash not to disclose the beating to anybody and promised to bear the expenses of treatment for his eye.  
The school principal and all the teachers of the Saraswati Vidya Mandir  were away in Ranchi ostensibly to attend the RSS-sponsored Shikshak Samagam addressed by RSS chief Mohan Bhagwat.   
Says Dr B P Kashyap who operated upon Akash's damaged eye: "There is hardly any chance of the eyesight being restored. The eye lens cornea has been damaged. We have advised his parents to take him to Delhi or Chennai for further treatment."
Akash's parents are poor farmers and are not in a position to go to the metros for his treatment.
The law: Sec 326 IPC provides for a maximum of 10 years imprisonment  if anybody causes physical harm with a stick or weapon causing the victim to lose his or her eye or breaking  hands or legs. The jury is still out.