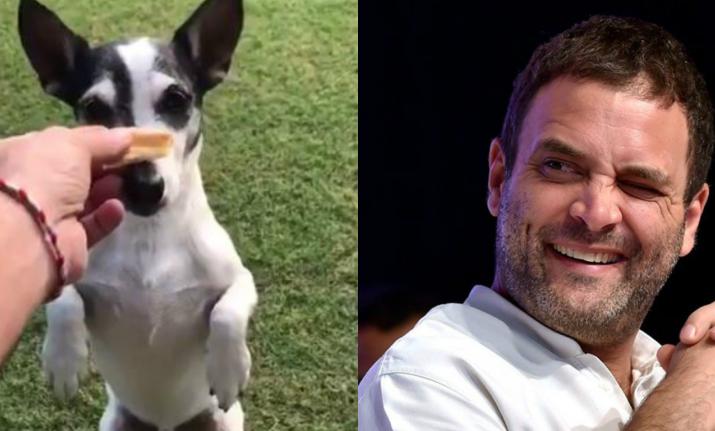 You're probably living under a rock if you don't know Pidi. Let us first take you back in time. Rahul Gandhi's dog Pidi gained fame on Twitter in 2017 after Gandhi posted a video of his pet, which was meant to be a sarcastic hit back at detractors who suggested that someone else was tweeting for the Congress vice president.
Ppl been asking who tweets for this guy..I'm coming clean..it's me..Pidi..I'm way 😎 than him. Look what I can do with a tweet..oops..treat! pic.twitter.com/fkQwye94a5

— Rahul Gandhi (@RahulGandhi) October 29, 2017
Rahul Gandhi's love for his dog Pidi has never been under the wraps. This time, Gandhi took Pidi out on a fun car ride. And this, after Congress' embarrassing performance in the recently-concluded Lok Sabha election. 
In the picture that has gone viral, Rahul Gandhi was snapped sitting on the driving seat while Pidi sat on the backseat, giving an adorable reaction to the camera. 
The picture was shared on Twitter by user @anilsharma07 with the caption, "Congress @INCIndiaLive president @RahulGandhi in New Delhi on Tuesday."
Congress @INCIndiaLive president @RahulGandhi in New Delhi on Tuesday. @IndianExpress photo @anilsharma07 pic.twitter.com/EBya53qHKx

— anil sharma (@anilsharma07) May 29, 2019
Soon after, several social media users began commenting. Here's how people reacted:
Such a lovely picture 😍

— Amrita Dhawan (@AmritaDhawan1) May 29, 2019
Like a common man #Congress @INCIndia president @RahulGandhi

— Surender Thallapelly (@surender104) May 29, 2019
Excellent Picture...!

— S Rajasekar (@srspdkt) May 29, 2019
This dog is going to to succeed Rahul Gandhi . pic.twitter.com/7ilxYN1IPM

— Sarthak Haruray (@haruray_sarthak) May 29, 2019