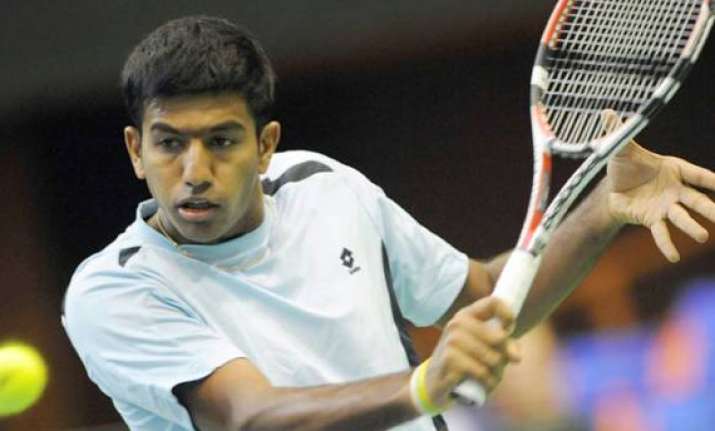 New Delhi/London, Jun 18: The raging tennis row over players' selection for the London Olympics escalated today with Rohan Bopanna joining Mahesh Bhupathi in refusing to be paired with Leander Paes, prompting the Sports Ministry to suggest fielding two teams instead of one.
On a day of dramatic developments, Bhupathi fired the first salvo, complaining to the ministry about AITA pairing him with Paes despite his strong reservations.
"We failed to understand how, without notice, putting together a combination of two players who haven't played together in months serves the interest of the country," Bhupathi, the 12-time Grand Slam winner, wrote in his letter.
Bhupathi in his strongly-worded letter to Sports Minister Ajay Maken, said "the manner in which this has been communicated and handled by the All India Tennis Association defies logic".
"If the objective, as proved by latter events, was to send only one team, why was this not communicated to the players clearly and well in advance such that the team proposed to be sent to the Olympics could train together and play together?" Bhupathi asked.
Bopanna said he was approached by the AITA with a request to pair with Paes as their 'second choice' team.
"With all respect and humility, I have been unable to accept AITA's offer and have communicated my decision to them in writing this morning," Bopanna said in a statement.
He said the very basis of his forming a team with Bhupathi was to play in Olympics together and the tennis body not only knew about it, but encouraged them.
The big-serving player, who is in demand from both Bhupathi and Paes for the London Games, also said that he and Paes do not make a good pair and their partnership is unlikely to yield any result.
"Since the beginning of the year, I have partnered with Mahesh Bhupathi towards playing together as at team at the Olympics. This was communicated to the AITA at every step and we were encouraged to continue to play together.
"Having played alongside Leander Paes only twice during my career, I recognise that as a team we are under-prepared for the demands of the Olympics and, in good faith, I could not accept AITA's offer that we play together."
Sensing the unease among the top players, the ministry shot off a six-point letter to newly-elected AITA President Anil Khanna and sought explanation by tomorrow afternoon.
Maken also spoke on the issue and said he does not want to interfere in the affairs of the national tennis body even as he favoured sending two teams for the mega sporting event.
"It is not for the sports ministry to decide but in this case, many things have come to light and that's why we have written to AITA and I hope that better sense will prevail," Maken told reporters.
He also appealed to both AITA and the players "to keep national interest above everything else."
The ministry letter asked why AITA chose to select only one team when two teams can be sent to compete in next month's Olympics.
"The government has been funding and supporting multi players to train and qualify for the Olympics. The justification of denying two players, who have qualified as a team on merit by sending just one Indian team, when India can send two teams?" the letter asked.