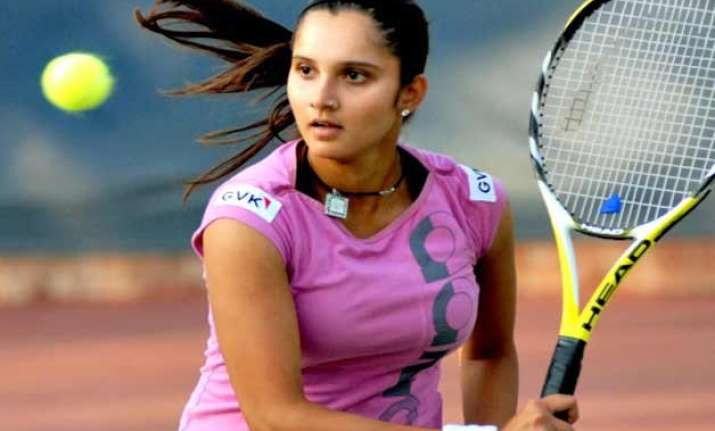 Hyderabad: India will be led by newly-crowned world number one Sania Mirza as 11 nations will strive to get promotion to Asia/Oceania Group I when the Fed Cup tennis competition begins here Tuesday.
Since Iraq has opted out, 11 countries would compete in the Group II this year -- India, Indonesia, Iran, Kyrgyzstan, Malaysia, Oman, Pacific Oceania, Pakistan, the Philippines, Singapore, Sri Lanka and Turkmenistan.
Sania will be India's playing-captain and it will be interesting to see if she plays singles. India's No. 1 singles player Ankita Raina, Natasha Palha, and Prarthana G Thombare are the other members of the team.
The Fed Cup, launched in 1963, is the world's largest annual international team competition in women's sport, with 99 nations taking part in 2015.
The tournament which ends on April 18 would be held on Round-robin basis with four pools of three teams each. The winner of Pool A will play the winner of Pool C and the winner of Pool B will play the winner of Pool D in the first round of play-offs. The winners of those matches will play-off to determine which nation will be promoted to Group I for 2016.
Philippines and Singapore are in Pool A, Turkmenistan, Iran and Kyrgyzstan are in Pool B, while India, Malaysia and Pakistan are in Pool C and Indonesia, Sri Lanka and Pacific Oceania are in Pool D.
Expressing happiness over coming to Hyderabad for the event, Pakistan's non-playing Captain Inamul Haq said he looked forward to the visit though his team is not a strong side.
"I hope the result would be better than last year," he told PTI.
Talking about the tennis scene in Pakistan, he said there are good programmes going on for players and coaches now. The junior players are being groomed well.
Tournament Director Ashok Kumar said the All India Tennis Association (AITA) has plans to felicitate Sania during the tournament in Hyderabad for becoming world number one.