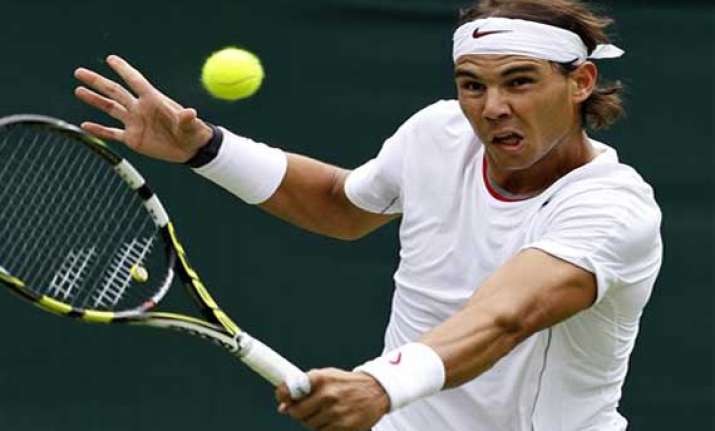 London: After Spain's ouster from the ongoing FIFA World Cup in Brazil, Rafael Nadal is ready and motivated for another shot at the Wimbledon title.
"For me it doesn't make any differences on my motivation. I am sad, everybody in Spain is sad for what happened in the World Cup. But my mentality, my motivation is going to be always at the top to play here in Wimbledon." Xinhua reported him as saying Saturday.
"So I am not more motivated because Spain lost in the World Cup."
"That's the sport, that's the life. It's not the first time that happens in the world of sport, and will not be the last that these kind of things happen. Now after that loss, you feel free to make the changes."
Four years ago, the Spanish national football team lived up to the hype to win its first World Cup in football in 2010, while Nadal triumped at Wimbledon for a second time.
Nadal, however, experienced shock defeats in the past two editions at the All England Club, stunned by Lukas Rosol in the second round two years ago and losing to Steve Darcis in his first match last year.
"Wimbledon is really the most dangerous tournament of the year. In the end, everybody remembers the winner. Everybody remembers the victories, and nobody remembers the losses." he said.
"Obviously winning Roland Garros is a lot of confidence for me and give me the possibility to play here with less pressure. It is true that I didn't play as much as I would like to play on grass for the last couple of years," said Nadal, who arrived with his ninth Roland Garros title under his belt.
"I am not going to start from zero because I already played a lot in this surface in my career, it is like a restart."
A third Wimbledon crown would push him clear of Pete Sampras on the all-time Grand Slam leaderboard, just behind Swiss mogul Roger Federer.