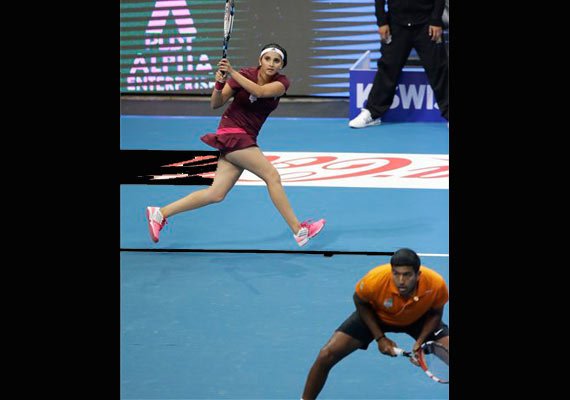 Manila: Indian Aces continued their winning run as they beat Manila Mavericks 24-15 on the second day of the much talked about International Premier Tennis League (IPTL) here Saturday.
Having started their campaign by defeating Singapore Slammers, Indian aces today strengthened their position by outplaying star-studded Mavericks side.
Opting to serve first, Mavericks captain Treay Huey decided to begin the match with legend's singles game and Fabrice Santoro of Indian Aces was scheduled to play Carlos Moya.
The Spanish legend, representing Mavericks, retired hurt with groin injury at 3-1 and was replaced by Daniel Nestor, who Santoro easily beat 6-1.
The Manila boys -- Jo-Wilfried Tsonga and Filipino Treat Huey -- then outplayed his fellow country mate Gael Monfils, partnering Rohan Bopanna 6-0 to give the Mavericks a 7-6 lead over the Indian team after the end of two sets.
The Aces, however, bounced back in the third set with Gael Monfils beating the only member of Big Four club, Andy Murray 6-4.
After leading the set at 3-4, Murray succumbed to Monfils losing the three consecutive points and eventually the set. At the end of third set, the Mavericks trail 11-12.
In the clash between two stars pairs, India's Sania Mirza and Bopanna mauled the top singles players, Maria Sharapova and Andy Murray brutally.
It is not always necessary that the two great singles players would make a good doubles team, and this was proved today as the experienced Indian duo thrashed Sharapova and Murray 6-1 to give Aces an 18-12 lead.
Ana Ivanovic of Indian Aces then shut the door on Mavericks by getting the better of Sharapova 6-3.
After losing the mixed doubles match with huge margin, Sharapova lost her way in the singles match in the fifth and final individual set.
Sharapova started off well with consecutive two aces down the line to hold the opening serve but the first break point came in the third game with Ivanovic taking a 4-1 lead.
The Russian then broke Ivanovic in the sixth game but could not win the set and eventually lost the match.