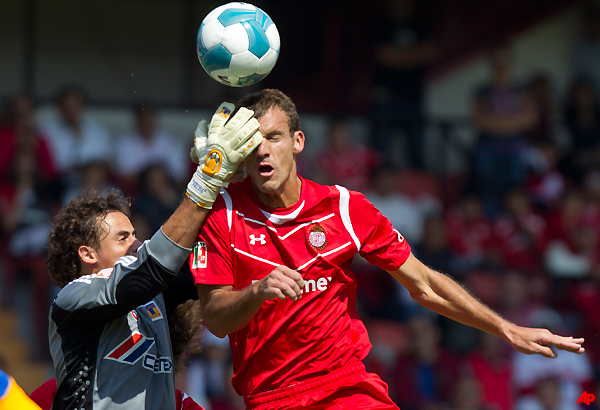 Mexico City, Feb 20: Tigres, Morelia and Santos Laguna improved to 14 points to share the Mexican first-division lead through seven rounds.

Tigres, which lead the other two on goal difference, drew 0-0 against Atlas. Morelia defeated Puebla 2-1, and Santos Laguna drew 1-1 against Monterrey.

Pachuca missed an opportunity to move into first place and lost its unbeaten record on Sunday, falling 1-0 against America to stay on 12 points.

Chivas' poor play continued with a 0-0 draw at home against San Luis. Chivas is one of Mexico's most popular clubs but has only two points in seven matches.

In other weekend results: Cruz Azul and Pumas drew 1-1, Estudiantes defeated Atlante 2-1, Toluca defeated Jaguares 3-1, and Queretaro lost 2-0 against Club Tijuana.

In Tigres draw, Argentine Damian Alvarez received a red card in the 26th for a comment to the referee, but neither team could break the deadlock despite both having chances to win the game. The result extends Tigres' unbeaten run at home to 22 matches.

Second-half goals from Luis Sandoval and Miguel Sabah saw Morelia come from behind against Puebla. Rodrigo Salinas had put Puebla into the lead in the 53rd.

Luis Perez gave Monterrey the lead in the 53rd after his penalty rebounded back and he headed it home. Aaron Galindo equalized with a header from a corner in the 82nd.

America won its first home game of the season with Ecuadorian Christian Benitez scoring on a solo effort from 25 meters (yards).

Chivas has only two goals all season and again failed to score against San Luis, which came into the game off the back of four defeats and with a dispute with its players over pay hanging over it.

The game was overshadowed by a statement released Friday by Chivas accusing Mexican sports newspaper Record of running "a campaign of hate and abuses" against the club. The statement said all 18 first-division clubs agreed to ban the paper's representatives from their stadiums and other facilities, although several clubs are reported to have allowed their matches to be covered as normal.

In a Mexico City derby, Eduardo Herrera put Pumas into the lead in the 22nd. Cruz Azul's Javier Aquino steered a low right-footed shot from the edge of the area into the goal to equalize in the 65th.

Cruz Azul is the only unbeaten team this season, but it has drawn five games and has only 11 points.

Captain Juan Carlos Leano scored the winner with a header for Estudiantes Tecos in the 32nd, a vital victory as the club tries to avoid relegation. Eduardo Lillingston got the first for Estudiantes in the 14th and Ecuadorian Michael Arroyo equalized for Atlante 10 minutes later.

Toluca went two goals up in the first 30 minutes, with Carlos Esquivel and Chilean Ivan Alonso scoring. Esquivel got his second in the 75th, with Colombian Jackson Martinez scoring Jaguares' goal in the 79th.

Argentine Jose Sand got the first for Club Tijuana in the 51st, with Colombian Duvier Riascos adding the second three minutes later.