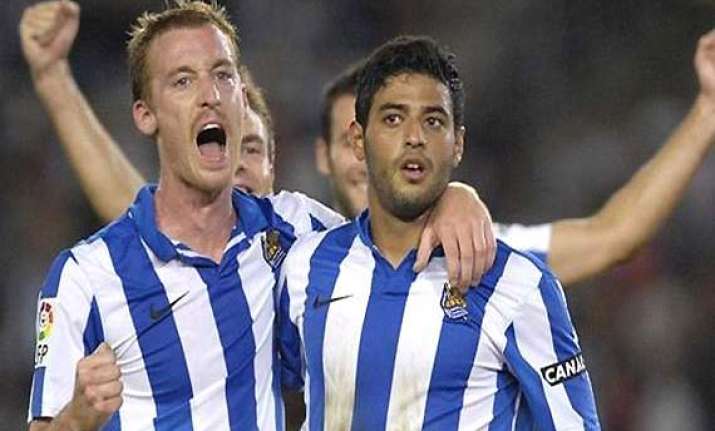 Barcelona, Dec 21: Real Sociedad dealt another blow to Sevilla's slumping season with a 2-1 home win Thursday that kept the Basque club unbeaten in seven rounds of the Spanish league.
Also on Thursday, Espanyol beat last-place Deportivo La Coruna 2-0 to escape the relegation zone, while Rayo Vallecano downed visiting Levante 3-0.
Sociedad forward Carlos Vela netted his team-high seventh goal of the season in the 18th minute when he took a pass by Antoine Griezmann inside the area and slotted a left-foot shot past goalkeeper Diego Lopez.
Gary Medel leveled for Sevilla in the 50th, but Alberto de la Bella reached fellow defender Carlos Martinez's cross at the far post in the 68th to put Sociedad back in front for good.
Jorge "Coke" Moreno received his second yellow card in the 74th, leaving the visitors with 10 men and with little hope of equalizing.
Sociedad climbed into seventh place, while Sevilla is in 13th.
Sevilla is winless in five games and with just one victory in its past nine, and coach Michel Gonzalez acknowledged the pressure is increasing on him as the team heads into the winter break.
"Confidence is not limitless, regardless of the effort," said Michel. "Either due to our lack of scoring touch or whatever it is, the dynamic is not good. I don't have to say it, it's clear it's very negative."
Golfer and Sociedad fan Jose Maria Olazabal was honored before the game for captaining Europe's Ryder Cup victory earlier this year.
Sociedad also paid tribute to its fans by bearing the names of 22 randomly selected club members on the front of their players' shirts instead of paid advertising.
Espanyol's much-needed home win confirmed its turnaround under new coach Javier Aguirre, who had recorded three straight draws since taking over for the fired Mauricio Pochettino.
"We didn't take that step forward in quality that I wanted, but the players needed to feel the joy of winning and they worked hard to earn it," said Aguirre. "We are on a good streak."
Espanyol midfielder Simao Sabrosa headed in a poor clearance by Deportivo goalkeeper Dario Lux to score for the hosts at the half-hour mark.
A drab Deportivo never reacted, and substitute striker Christian Stuani doubled Espanyol's advantage two minutes from time.
Deportivo coach Jose Oltra's days in La Coruna could also be numbered after his team did little to stop its winless streak from reaching seven games.
"We are worried about the situation and will do everything we can to change it," said Oltra.
Before the match Espanyol showed its support for Tito Vilanova, the coach of crosstown rival Barcelona who was operated on for the reappearance of a throat tumor earlier Thursday, by displaying an image of the manager with the message "Keep Your Spirits Up, Tito" on the Cornella-El Prat stadium monitors.
Earlier, Rayo scored two long-range goals as the topflight minnow rose into eighth place and handed sixth-place Levante its first loss in six away matches.
Rayo dominated possession in the first half, but Levante was firm in defense with Papakouly Diop patrolling the midfield and providing its best chance when he fired into the side netting.
Rayo broke through in the 59th when left back Ignacio Martinez unleashed a left-footed strike that curled outward to fool goalkeeper Gustavo Munua before going in off the post.
Forward Francisco "Piti" Medina then sealed Rayo's second straight victory with a perfectly struck free kick in the 80th. Franco Vazquez added Rayo's third in stoppage time.
"It's a pity this isn't the end of the season," said Rayo coach Paco Jemez, whose team was expected to suffer to stay up this season.
"The worst and the best are yet to come."
On Friday, second-place Atletico Madrid hosts Celta Vigo, while Getafe visits Valencia.
League leader Barcelona visits Valladolid on Saturday, with assistant coach Jordi Roura taking Vilanova's place on the sideline. Also, third-place Real Madrid visits fourth-place Malaga, Athletic Bilbao hosts Real Zaragoza, Mallorca visits Real Betis, and Osasuna plays Granada.