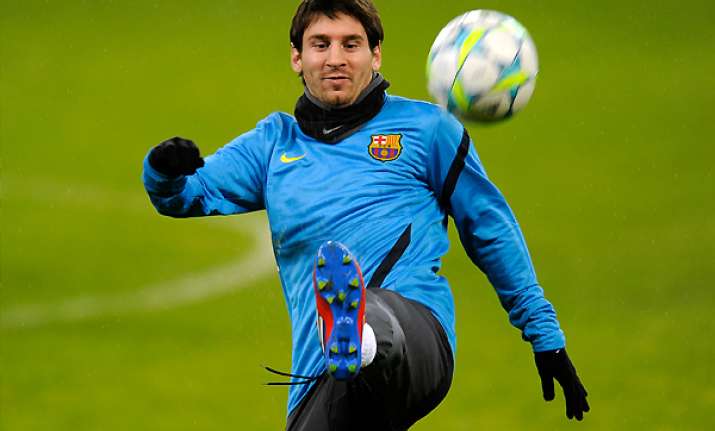 Buenos Aires, Feb 16: Barcelona star Lionel Messi will headline Argentina's squad in an international friendly at Switzerland on Feb. 29.

Argentina coach Alejandro Sabella announced the squad Wednesday, the same day FIFA's rankings came out showing his national team had fallen out of the top 10 for the first time since 2004. Argentina dropped to No. 11, one spot behind Denmark.

Apart from Messi, the squad features most of Argentina's top players. They include Barcelona midfielder Javier Mascherano, Real Madrid forwards Angel Di Maria and Gonzalo Higuain, and Manchester City striker Sergio Aguero. Carlos Tevez was left out, however, and has yet to make his return to the pitch since falling out with City manager Roberto Mancini in September.

The team features a remade defense with the absence of injured Nicolas Burdiso.

At midfield, quick-improving Erik Lamela gets his first call-up after a strong season with Italian club Roma. Only 17 players were listed in the squad, although more names could be added later.

Argentina has had mixed results in four matches in South American qualifying for the 2014 World Cup. The Gauchos opened with a 4-1 victory over Chile, then slumped to a 1-0 loss against Venezuela and a 1-1 draw with Bolivia. The fourth game was a 2-1 victory over Colombia.

Argentina resumes qualifying June 2 against Ecuador.

Squad:

Goalkeeper: Sergio Romero (Sampdoria).

Defenders: Hugo Campagnaro (Napoli), Daniel Diaz (Getafe), Federico Fernandez (Napoli), Ezequiel Garay (Benfica), Luciano Monzon (Nice), Marcos Rojo (Spartak Moscow), Pablo Zabaleta (Manchester City).

Midfield: Angel Di Maria (Real Madrid), Fernando Gago (Roma), Javier Mascherano (Barcelona), Erik Lamela (Roma), Jose Ernesto Sosa (Metalist), Maxi Rodriguez (Liverpool).

Forwards: Gonzalo Higuain (Real Madrid), Lionel Messi (Barcelona), Rodrigo Palacio (Genoa), Sergio Aguero (Manchester City).