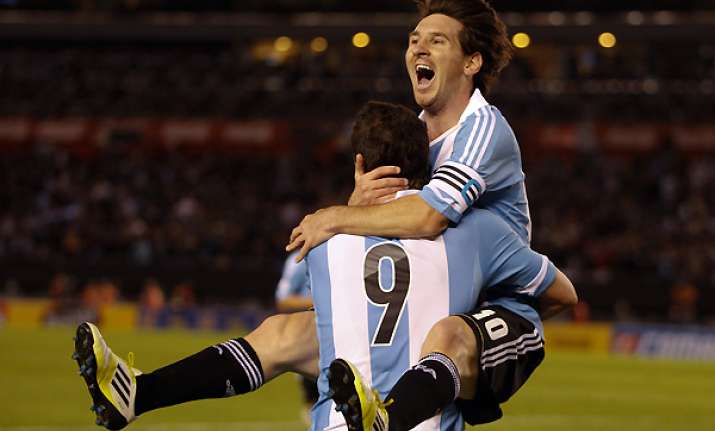 Buenos Aires (Argentina), June 3: Argentina scored three goals in nine minutes to overpower Ecuador 4-0 and move atop the South American World Cup qualifying standings on Saturday.
Argentina looked like the team it's expected to be with Sergio Aguero opening the scoring in the 23rd, before Gonzalo Higuain doubled the advantage in the 30th, taking a through pass from Lionel Messi.
Messi scored two minutes later, this time passing to Higuain who returned the ball for the Barcelona star to drill it high into the net.
Angel Di Maria added the final goal in the 76th.
The Gauchos improved to 10 points in five matches. Chile has nine in five. Uruguay has eight, but has played only four. Venezuela has eight in five games. Ecuador has six in four matches.
Argentina was dominant from the first minute at River Plate's Monumental Stadium in the Argentine capital. It was perfect in the nine-minute scoring spree, slipping quick passes past stunned Ecuador defenders.
Aguero scored from a shot in the area after taking a perfectly weighted pass from Di Maria.
Next, Messi took the ball from midfield and, buffeted by two Ecuador defenders, slipped the ball through to Higuain who scored inside the post from a sharp angle.
Messi, often criticized in Argentina for seldom showing the form he does at Barcelona, scored on a counterattack in the 32nd. Messi almost scored another in the 69th, breaking from the right side and shooting on-target with keeper Alexander Dominguez leaping to bat away the shot.
Di Maria broke through on a play set up by Messi with the Real Madrid winger finishing perfectly.
The only slip for Argentina came in the 51st when Aguero was given a yellow card for diving in the area trying to draw a penalty. He will miss the next qualifier against Paraguay.
Ecuador is home against Colombia on June 10 in the next round. Argentina has the next round off and plays Brazil on June 9 in a friendly in East Rutherford, New Jersey.
Lineups
ARGENTINA:
Sergio Romero, Federico Fernandez, Ezequiel Garay, Pablo Zabaleta, Clemente Rodriguez, Fernando Gago, Javier Mascherano, Angel Di Maria (Maxi Rodriguez, 83), Sergio Aguero (Jose Sosa, 62), Lionel Messi, Gonzalo Higuain (Ezequiel Lavezzi, 74).
ECUADOR:
Alexander Dominguez, Gabriel Achilier, Jorge Guagua, Jairo Campos, Walter Ayovi, Pedro Quinonez, Cristian Noboa, Luis Saritama (Jaime Ayovi, 39), Antonio Valencia, Cristian Suarez (Jefferson Montero, 45), Cristian Benitez (Renato Ibarra, 84).