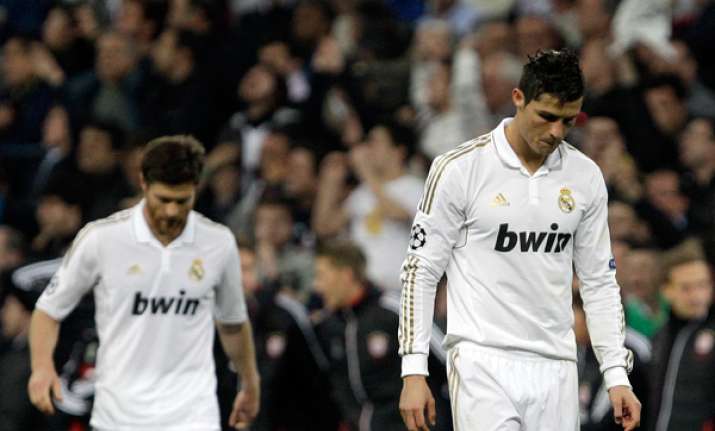 Madrid, Apr 27: Real Madrid's inglorious exit from the Champions League was almost like deja vu.
The Spanish team took a 2-0 lead in the first half to give it the impetus against Bayern Munich in the second leg of the semifinals, just as Barcelona had done the night before against Chelsea.
But after their opponents regained the initiative, Madrid had to watch as Cristiano Ronaldo failed to convert a penalty kick in the shootout, one day after Lionel Messi smacked his spot kick off the crossbar in the second half.
And in the end, the result was the same. Instead of the Barcelona-Real Madrid final on May 19 that most neutral fans craved, it will be Chelsea and Bayern playing in Munich for the European club title.
Perhaps the most unexpected and perplexing aspect of the Spanish pair's exit were the penalty misses by the winners of the last five world player of the year awards.
Ronaldo's and Kaka's opening shootout kicks were saved to leave them 2-0 down, while Messi's miss cost Barcelona as the team was eliminated after 10-man Chelsea went on to score. The English club advanced 3-2 on aggregate.
Spain international Sergio Ramos was not even close for Madrid as he skied his penalty over the bar before Bastian Schweinsteiger netted the clincher for Bayern.
Brazil fullback Marcelo said his teammates empathized with Ronaldo, Kaka and Ramos, and the nine-time champions just lacked a little luck in the end.
"Every one of us feels it. One may miss, but we all feel it. We're a team," Marcelo said. "We worked and fought hard. We left our skin on the pitch."
Coach Jose Mourinho, who pledged his future to the club, defended his work as an improvement on last season, when Madrid's lone trophy was the Copa del Rey.
"Winning the Copa del Rey last year was important and if we win the league this year that will be important too. Two (Champions League) semifinals is also not bad but we want more," Mourinho said, believing his team could still improve under his command.
"If the club thinks that I can still give something, and I know that they do, and if the players think so as well, and I think they do, then I will continue."
Reports on Thursday suggested Kaka may not be included in Mourinho's future plans as the Brazilian playmaker has generally struggled since his move from AC Milan in 2009.
Madrid still has to close out its record 32nd league title as it enjoys a seven-point lead over Barcelona with four rounds to play.
"The locker room is full of pride," Mourinho said. "I told them they can all go home relaxed. The players have nothing to be ashamed of."