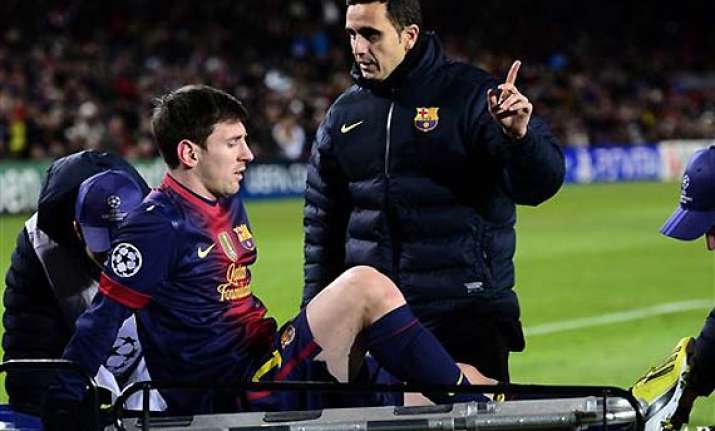 Barcelona, Dec 6: Lionel Messi was carried off with a knee injury as Barcelona was held to 0-0 by Benfica at Camp Nou in the Champions League on Wednesday.
Messi had a bone bruise to his left knee, the club said after scans.
"The feeling is that it isn't more serious than a knock," Barcelona coach Tito Vilanova said.
Messi, who went on as a reserve in the 58th minute, collided with Benfica goalkeeper Artur in the 85th and was in obvious pain clutching his knee when he fell to the turf after weakly attempting a chipped shot.
As Messi dribbled into the box, Artur made contact with the forward to silence the Camp Nou, which is not used to seeing the star injured.
"Let's hope it's nothing serious and that he can soon be with us back to 100 percent," captain Carles Puyol said.
Messi has scored 84 times in 2012 to be only one short of tying Gerd Mueller's 40-year-old record for most goals in a calendar year.
Vilanova said Messi always prefers to play and isn't focused on Mueller's record.
"Had we been worried just about the record we would have played Messi right from the beginning," Vilanova said. "But we had talked about it and decided to bring him on with half an hour to play."
Benfica looked the sharper side in the first half, while Barcelona dominated in the second. Barcelona had already qualified for the knockout phase in top spot from Group G.
Ola John's pass from midfield allowed Rodrigo Moreno to beat the offside trap and race forward accompanied by two Benfica forwards, all three clear of Barcelona's defense, but the Brazil-born Spanish striker shot wide in the 11th minute.
A minute later, Lima had a shot deflected by Barcelona goalkeeper Jose Manuel Pinto.
Manuel "Nolito" Duran crossed to an unmarked Lima in the penalty area for the Benfica striker to head just wide in the 20th.
Barcelona winger Cristian Tello missed in the 23rd before Lima's 32nd-minute shot was deflected by Pinto onto the goal-frame.
John beat Barcelona's defense again in the 35th but Pinto dived to turn the ball wide.
"It was a game in which it was clear that we wanted to win even though we started with many young players," Barcelona midfielder Thiago Alcantara said.
As the halftime whistle blew, fans in the stadium chanted Messi's name.
Barcelona looked refreshed in the second half, attacking more and stringing together more passes, until Messi came on for Brazilian midfielder Rafinha to an ovation from the fans.