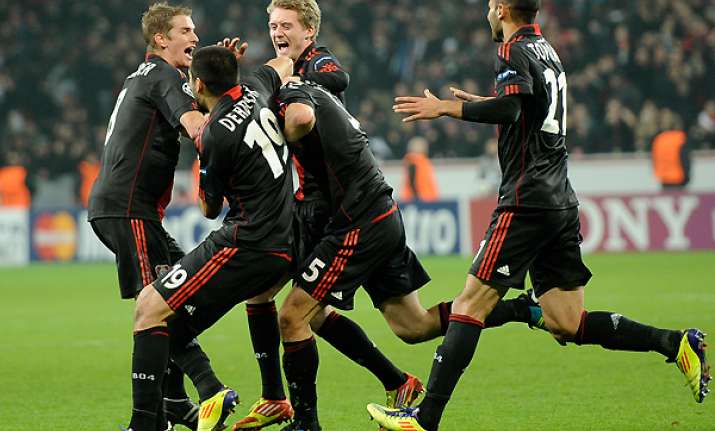 Leverkusen, Germany, Nov 24: Manuel Friedrich sent Bayer Leverkusen into the knockout round of the Champions League with an injury-time header Wednesday that secured a come-from-behind 2-1 win over Chelsea and left the London club in real danger of missing out on the next stage.

Friedrich—a defender—managed to beat Alex to the ball and score with a header from a corner that went in off the underside of the crossbar in the 91st minute.

"It was a game of character," Leverkusen coach Robin Dutt said. "We had to take a chance. Of course it's lucky when it works out."

The result piles even more pressure on Chelsea manager Andre Villas-Boas, whose team has lost three of the last four games in the Premier League and must now beat Valencia at home in its final group match to guarantee a spot in the knockout round.

"It's details that have been deciding our fate at the moment," Villas-Boas said. "We left our back exposed."

Chelsea would have clinched a spot in the knockout round with a win and Didier Drogba had given the London club the lead in the 48th, when he turned his marker before dispatching a low shot to the far corner.

"You could see that Chelsea are a little unsettled at the moment," said Leverkusen midfielder Michael Ballack after his 100th European appearance. "Only after we conceded could you see how much talent (we have) in this team."

Eren Derdiyok equalized in the 73rd, two minutes after coming on as a substitute, when Sidney Sam waited to draw out Petr Cech before crossing for the Switzerland striker to head into an empty net.

"To turn the game around like that says a lot about the team," Derdiyok said. "Of course I'm delighted."

Leverkusen tops Group E on nine points, with Chelsea and Valencia—both on eight—meeting in their last group game.

Even if Leverkusen loses its last game against Genk, which lost 7-0 in Valencia, and Chelsea draws with Valencia, the Bundesliga runner-up would progress based on points gained in head to head games between the three.

"It's not a fair result in the end," Villas-Boas said. "It was heading for a 1-1, there were big chances for both teams but I think we had the good share of the chances, in the first half and in the second half."

Indeed, Drogba might have scored a hat trick, the Ivory Coast striker drawing a shot wide in the fifth minute, and then shooting over an open goal in the 38th, when he took the ball past Leverkusen's 19-year-old goalkeeper Bernd Leno.

Ballack was involved in almost every attacking Leverkusen move against his former club, and the 35-year-old almost scored in the 33rd, when his header from Gonzalo Castro's corner beat Cech but not the crossbar.

Daniel Sturridge provided Chelsea's main attacking threat after the 22-year-old was rewarded with a starting place after scoring as a substitute in Chelsea's 2-1 loss to Liverpool on Sunday, and it was he who set up Drogba for the goal.

The Ivorian should have scored another in the 54th, when he fired left with only Leno to beat.

Cech denied Ballack five minutes later, first with a flying save to tip the ball over, and then from point blank when it seemed the former Germany captain had to score.

Drogba's appeals for a penalty were waved away in the 77th, when he went down under Oemer Toprak's challenge, and the Chelsea striker blasted a volley wide from close range with only Leno to beat in the 84th.

But Villas-Boas didn't want to blame his misfiring forwards for the loss.

"The responsibility is mine," Villas-Boas said.