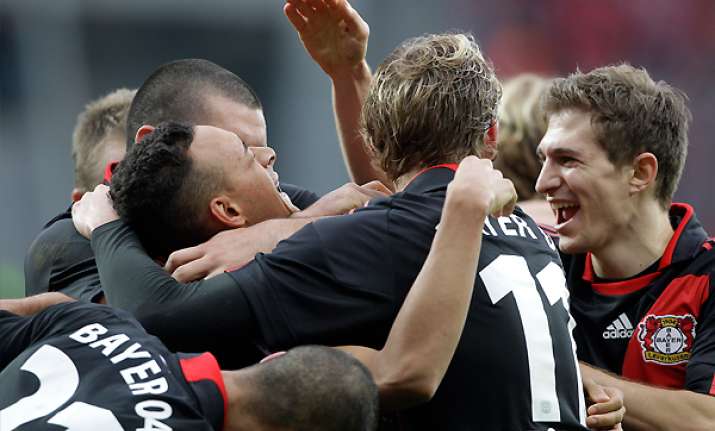 Barcelona (Spain), Mar 7: Trailing 3-1, Bayer Leverkusen is facing the formidable task of becoming the first club in nearly three decades to overturn a two-goal deficit at Barcelona to reach the Champions League quarterfinals.

Barcelona goes into Wednesday's game with a number of injury concerns but is comfortably on course to reach the quarterfinals for the fifth straight season.

The European champions have progressed 31 of 33 times when opening a two-leg series with a victory away from home, and not since a 4-1 loss to Metz in 1984 has the Catalan club failed to close out a two-goal lead at the Camp Nou.

Leverkusen has won a season-best three straight league matches, including a 2-0 win over Bayern Munich, since losing to Barcelona. But the German club hasn't won away from home in Europe in nearly a decade.

Liverpool beat Barcelona 2-1 at the Camp Nou at this stage in 2007 after the English club lost 1-0 at Anfield, but the Spanish champions have won all three last-16 matches under coach Pep Guardiola, beating Bayern Munich, Stuttgart and Arsenal by a combined 11-1.

"If we play like we did in the first half of the first leg we won't be happy but if we play as we did in the second half, in which we pressured a lot more, Barca will be stretched," Leverkusen coach Robin Dutt said on Tuesday. "We have to defend well, fight, look to score and take advantage of our opportunities."

Barcelona is unbeaten in 13 European home games with 11 victories and the Spanish league club has won nine straight games over German opposition, outscoring its opponents 24-4 on that run.

"Realistically, we don't stand much of a chance. But we want to give Barcelona a game," striker Stefan Kiessling said.

As expected, Guardiola was preaching prudence to his team.

"Our last-16 return matches have always been close but this time we have a better result. We have to keep them from getting out and play the game at our rhythm," Guardiola said. "The Champions League is very demanding. You saw what happened with the two Manchester clubs going out. It's a very difficult competition and we have to take advantage of this great chance we have of reaching the quarterfinals."

Barcelona has some injury worries with striker Alexis Sanchez and defenders Eric Abidal and Carles Puyol all expected to be sidelined by injury, while midfielder Thiago Alcantara missed Saturday's 3-1 win over Sporting Gijon with a right leg injury.

Lionel Messi, who leads the competition with seven goals, is expected to return and provide another shirt for Leverkusen's players to squabble over after missing the league win with suspension. Leverkusen's players drew the ire of sporting director Rudi Voeller after defenders Michal Kadlec and Manuel Friedrich dueled for Messi's shirt after the first leg loss.

"We should be able to take advantage of them having to attack, as they did in the second half of the first leg," said Barcelona midfielder Sergio Busquets, whose team scored twice in the final 35 minutes to secure the first-leg win. "The extra spaces should benefit us and provide an open game."

The Germans have a relatively healthy squad with Vedran Corluka a doubt while captain Michael Ballack is missing.

"We've got nothing to lose and a lot to gain," Dutt said.