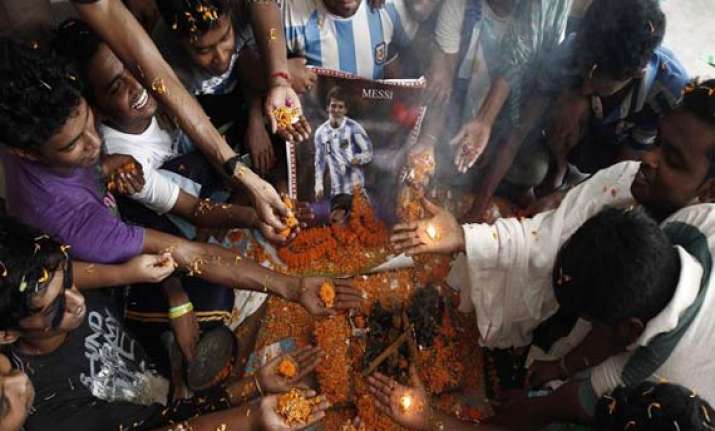 Kolkata: As Argentina gear up to take on Germany in the FIFA World Cup final Sunday, fans of the Latin American nation here Friday performed religious rituals and lit the sacrificial fire (yagna) for the team's victory at the Maracana stadium.
A group of Argentine supporters performed the yagna at Babughat on the banks of the Ganga river to the accompaniment of dhak (drums).
Adorning the site with photographs of Argentine superstar Lionel Messi, the fans sported the number ten jersey of the genius striker and worshipped the 'Brazuka' ball being used in the tournament.
"We worshipped the ball so that it brings good luck to Argentina. We also worshipped Messi's photograph praying for his success in the match, as a good show from him is a must for an Argentine win," said one of the puja organisers.
In South Kolkata's Suruchi Sangha, club members dressed in the Argentine jersey put up a giant cut-out of Messi. They painted their face in the Argentine team colours and raised slogans eulogising Messi and the South American side.
Kolkata, the football crazy city of cricket-mad India, has adored for generations the mesmerising skills of Latin American nations Brazil and Argentina.
Brazil's humiliating 1-7 loss to Germany in the semi-final has broken the hearts of the team's supporters in the metropolis.
Now, for the Brazilian fans in Kolkata, an Argentine victory over Germany in the summit clash would be a "revenge of sorts" for Brazil's disgrace at the hands of the European powerhouse.
"We will root for Argentina Sunday, though we always consider them our arch-rivals. We want Argentina to win. That would be a consolation for us, that at least a Latin American nation has won the World Cup on the soil of Brazil," said banker T.P. Dutta, a Brazil fan.
Argentine fans, on the other hand, are dying to get even with Germany, which had defeated the Latin American side in the 1990 World Cup final.
"We will win. We will take revenge for the 1990 loss when they scored from a dubious penalty," said Aniruddha Sarkar, donning Messi's number 10 jersey.
Following the collapse of the Berlin wall, it was the final tournament where the newly united Germany played as West Germany.
Andreas Brehme had struck the winner from a penalty kick late in the second half.