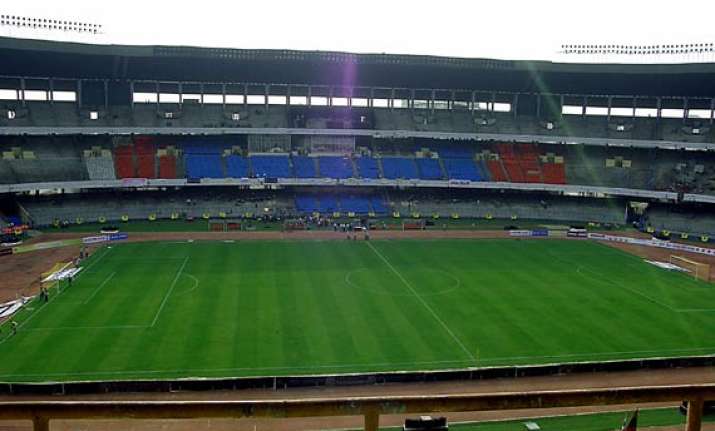 Kolkata:  A FIFA delegation on a visit toinspect venues in connection with the 2017 Under-17 FootballWorld Cup, which India would host, expressed satisfaction with the Salt Lake Stadium.
We are very much satisfied with such a massive stadium, now we have to sit together to discuss how best we can utilise this," FIFA delegation chief Inaki Alvarez, Head of Event Management Competitions Division, told a press conference after a two-and-a-half-hour inspection of the facilities.    
He said that the Salt Lake Stadium was the eighth venue in India the delegation visited and that they would undertake future visits to see the preparation for 2017 event.    
Answering a question about the pitch of the stadium, Alvarez said, "It is in very good shape."    
Asked if he had any suggestion to make to the All India Football Federation (AIFF) regarding changing of the surface from the existing artificial to natural, Alvarez said, "I am not a technical person."    
He, however, said the stadium has huge space and those facilities available could be improved over time after consultation and discussion with local authorities. Asked if they have any suggestion for improvement of the
facilities, Alvarez said that it needed all top class arrangements like seats, players rooms, referee rooms for a World Cup football tournament.
Salt Lake Stadium, which, built in 1986, has hosted many international matches including FIFA's Argentina versus Venezuela friendly, has a capacity to accommodate 1,11,000 spectators - the biggest in India.    
Alvarez was accompanied by Asian Football Confederation deputy general secretary Windsor John, FIFA IT Competition Vijay Parthasarthy.    
This was the FIFA delegation's last leg of visit which began on February 20. The team has visited New Delhi, Pune, Goa, Mumbai, Bangalore, Kochi and Guwahati.