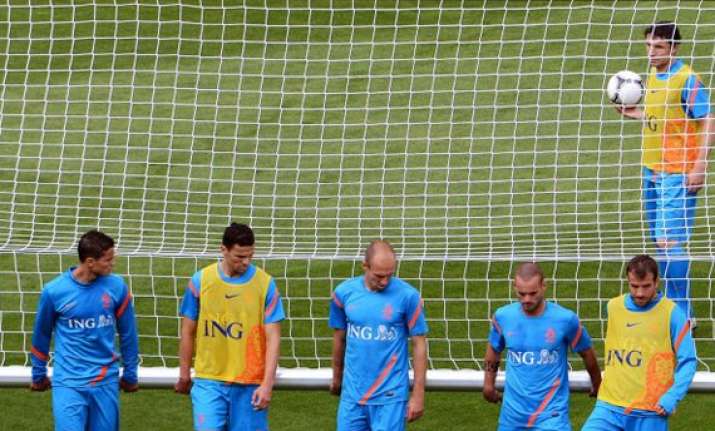 Poland, Jun 8 : Anything but a victory over Denmark would be a minor disaster for Arjen Robben, Robin van Persie and their Netherlands teammates on Saturday.
They all know the deal: As runners-up in the 2010 World Cup, they can't claim success this time around unless they return to Amsterdam with the European Championship trophy.
Failing to beat the Danes in their first Group B match would complicate things to say the least, with Germany and Portugal left to play in the most challenging group of the competition.
"We realize this is perhaps our last chance to win a tournament," Netherlands winger Dirk Kuyt said. The core of the team which lost the World Cup final to Spain is expected to
 start against Denmark in Kharkiv.
If football followed logic, Denmark would stand little chance on Saturday. The Danes simply cannot match the individual brilliance of orange-shirted superstars like Robben, Van Persie or Wesley Sneijder.
The name that commands the most respect in Denmark's roster is probably Kasper Schmeichel. And that's not because of his role as third-choice goalkeeper, but the fact that he's the son (and spitting image) of Peter Schmeichel, the former Denmark and Manchester United great.
"We don't have big stars like Holland," Denmark defender Daniel Agger told The Associated Press. "We have to work as a unit, and play like one."
The two teams have a similar style based on possession, speed on the flanks and marksmanship from their center forwards.
It's just that the Netherlands typically does it better.
Netherlands coach Bert van Marwijk's toughest choice is whether to use Van Persie or Klaas-Jan Huntelaar as center forward. One was the top scorer in the Premier League last season, and the other topped the scoring charts in the German Bundesliga and in Euro 2012 qualifying.
Denmark coach Morten Olsen has little firepower besides Nicklas Bendtner, who was on loan at Sunderland last season after failing to make regular starts at Arsenal.
Should anything happen to Bendtner, who says he's entering Euro 2012 in great shape, Olsen's alternatives up front are not exactly awe-inspiring: Groningen striker Nicklas Pedersen and Tobias Mikkelsen of Danish club Nordsjaelland. Neither has ever scored a goal for Denmark.
The teams are more evenly matched in midfield, where Sneijder's playmaking prowess is up against that of the hugely promising Danish youngster, Christian Eriksen. The Dutch team knows the danger posed by the 20-year-old Ajax man, who will be looking for a big-stage breakthrough in Ukraine and Poland.
"He is a big talent doing really well for Ajax. He is young, skillful and he will be an important player for Denmark," Netherlands defender John Heitinga said.
If the Dutch have a weak spot, it's the defense.
Heitinga's center back partner Joris Mathijsen is almost certain to miss out on Saturday due to a left hamstring injury. Possible replacements are Wilfred Bouma—soon 34 and not the quickest player in the team—and Ron Vlaar, who didn't play a single Euro 2012 qualifier.
Also weighing on Van Marwijk's team are the huge expectations from home. Recalling the bittersweet homecoming celebrations after the team lost the World Cup final, Amsterdam has let it be known that the players shouldn't expect a hero's welcome this time unless they return as European champions.
"Losing that final is now the motivation to win Euro 2012," captain Mark van Bommel said.
The Danes, meanwhile, look relaxed at their seaside training camp, knowing that not even the Danish press expects them to advance to the knockout phase.
Coach Olsen will seek inspiration from Denmark's stunning victory at the European Championship in 1992 and the fact that his team matched the Netherlands in their 2010 World Cup opener until an own goal by Agger early in the second half spoiled the day.
"I have a better feeling now than two years ago," Olsen said. "Everyone is on board and they're in good physical shape."