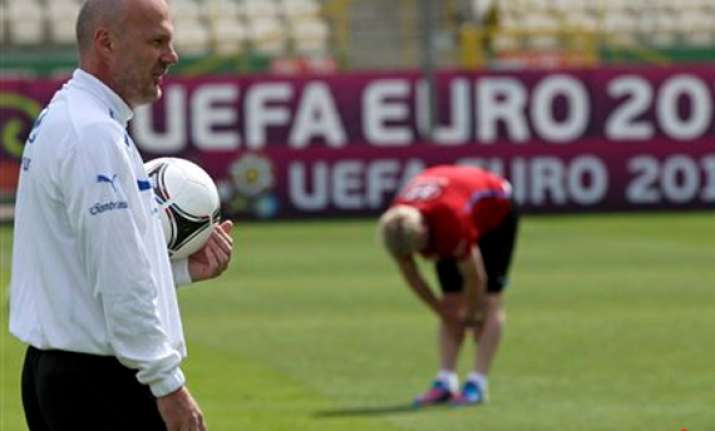 Poland, Jun 9:  The Czech Republic has one of the best goalkeepers in the world in Petr Cech.
Shame about its defense.
An opening 4-1 loss to Russia at the European Championship on Friday was a stark warning for Czech coach Michal Bilek that he needs to quickly fix his team's porous back line to have any realistic chance of making the knockout stage.
"I still have it on my mind," defender Tomas Sivok said. "You're looking forward to the tournament and then you concede four goals. That's tough to swallow."
Bilek's major challenge since taking charge in 2009 has been to rebuild the team following the retirement of its star players, such as Pavel Nedved and Jan Koller.
He may be on the right track in midfield, but the Czechs' heavy loss to Russia—their biggest since the Czech Republic was formed after Czechoslovakia split in 1993 -- clearly exposed his team's weakest link.
Russia's mobile forwards tore the defense apart and Bilek now has until the second match in Group A, against Greece on Tuesday, to find a solution and avoid an early elimination for the Czechs at a third straight major tournament.
Thousands of Czech fans at the stadium were clear about who was to blame—they booed Bilek. But Sivok came to his defense.
"They should have booed us instead," he said.
"The coach is always an obvious scapegoat for the fans, and it's bad to listen to it. At the same time, we didn't make anyone happy by conceding four goals."
The fact is, it wasn't the only match under Bilek where the team's defense has been leaky.
The loss against Russia was the heaviest for the Czechs at any major tournament since the 1970 World Cup, when Czechoslovakia lost 4-1 to Brazil.
Bilek's team lost 4-2 to Croatia and 3-0 at Norway in friendlies last year despite having Cech, who has starred for European champion Chelsea for the past eight years, as its last line of defense.
"We should've been more aggressive and not given (Russia) space to create scoring opportunities," Cech said after training on Saturday. "What we lacked was aggression."
At Euro 2008, the Czech defense contained four established Serie A players: Zdenek Grygera of Juventus, Marek Jankulovski of AC Milan, David Rozehnal of Lazio and Tomas Ujfalusi of Fiorentina.
They are all gone now. Of the current crop, Michal Kadlec of Bayer Leverkusen is arguably the biggest name but played possibly the worst match of his 35 in a national jersey.
"We made too many defensive errors," said Kadlec, whose father captained the Czechs to a runner-up place at Euro 1996. "We have to avoid them next. We have to analyze them and get ready for the Greeks."