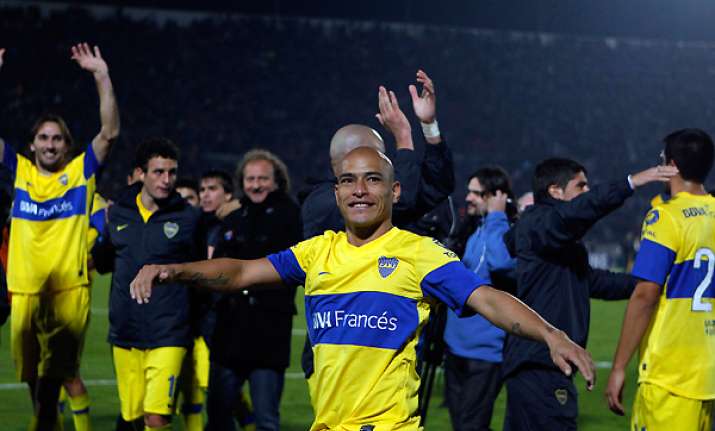 Sao Paulo, Jun 26:
The Copa Libertadores finals begin this week with Boca Juniors and Corinthians trying to make history.
Boca Juniors wants to win its seventh title to tie Argentina rival Independiente as the most successful team in Latin America's most important club competition. Corinthians, meanwhile, is out to win its first major international trophy and prove it can be a powerhouse outside of Brazil too.
Boca Juniors enters the final with an experienced team that has been improving as the tournament progresses. Corinthians is coming in backed by one of the competition's top campaigns, which culminated with the elimination of defending champion Santos in the semifinals.
The first match of the two-legged series begins Wednesday in Buenos Aires, Argentina. The return leg is July 4 in Sao Paulo.
The seventh title for Boca Juniors would tie it with Independiente and add to its recent dominance in Latin American football.
Independiente's last triumph in the Copa Libertadores happened nearly 30 years ago, in 1984. Boca Juniors, meanwhile, will be trying to win its fifth title in the last 12 years, and the first since 2007. The Argentine giants also won the competition in 2000, '01 and '03.
Boca Juniors will be playing the first leg at its La Bombonera stadium, where it has won its last five matches in this year's Copa Libertadores. The stadium is touted as one of the toughest to play for opponents, with loud fans that usually include former Boca players Carlos Tevez and Diego Maradona.
"The Bombonera (factor) is real, it exists," Corinthians coach Tite said. "You need to be mature to play there. We need to have the mental strength to do it."
The only time Boca Juniors didn't win at home this year was when it played Brazil's Fluminense in the group stage, losing 2-1. It then defeated Fluminense 2-0 in Rio de Janeiro, and later eliminated it from the competition in the quarterfinals 2-1 on aggregate.
Boca Juniors was in contention to win the Clausura tournament in Argentina this weekend, but lost its final match on Sunday and finished third after coach Julio Cesar Falcioni used mostly second-stringers because of the Copa Libertadores finals.
Brazilian champion Corinthians also didn't play its top players over the weekend, but it still defeated rival Palmeiras for its first win in the Brazilian league after six rounds, a result that allowed it to leave last-place in the 20-team standings.
Corinthians is Brazil's second most popular club, behind Flamengo, and has five national titles. But it has never had much success internationally. It won the inaugural FIFA Club World Cup in 2000 but after it was invited as the host team.
It got through to the finals this year with a 2-1 aggregate win over Santos, touted as the best team in Brazil thanks to young stars Neymar and Paulo Henrique Ganso. Corinthians won the first leg in Santos then held on to a 1-1 draw at home to reach its first final in the Copa Libertadores, the only significant competition it has never won.
All of its main rivals in Brazil — Palmeiras, Sao Paulo and Santos — have won the competition at least once and Corinthians' failure to win the title has given opposing fans bragging rights for years.
Corinthians supporters packed the airport in Sao Paulo on Monday to see the team leave for Buenos Aires, where it will practice at the La Bombonera on Tuesday.
"It was great to see them here, I've never seen anything like this," Corinthians defender Leandro Castan said.
The Brazilian club has been advancing in the Copa Libertadores thanks to stellar defense and it is yet to lose a match in this year's competition. When playing at the Pacaembu stadium, Corinthians outscored its opponents 14-1.
Many in Brazil have compared Corinthians' style with Chelsea's, with a defensive setup that produces victories despite lackluster performances.
Boca Juniors reached the finals by eliminating Universidad de Chile 2-0 on aggregate, winning at home and earning a scoreless draw in Chile.