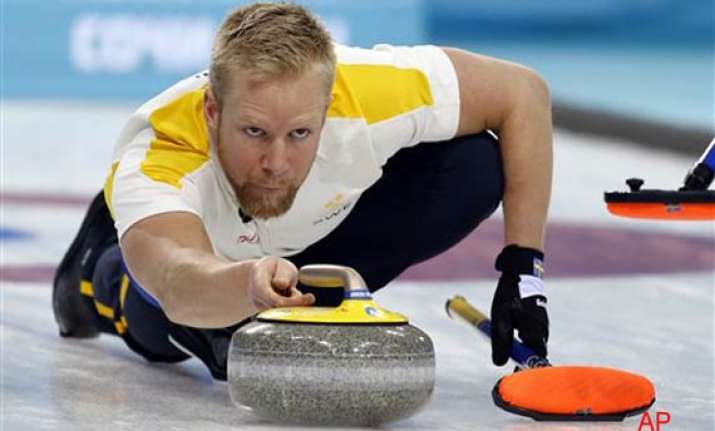 Sochi: Sweden secured a third straight win in men's Olympic curling by beating Canada 7-6 on Tuesday, intensifying the early-tournament woes of the gold-medal favorites.
Canada has won the last two Olympic titles but now has lost back-to-back games in Sochi and was sloppy in its only win so far -- against tournament outsider Germany on Monday.   
"It's a two-way win, so to speak," Sweden skip Niklas Edin said, "both beating them and putting them 1-2. Now they can't really afford any more losses to be sure of making the playoffs."   
Norway, the 2010 silver-medalist, defeated Russia 9-8 to move to 2-0 alongside China, which won 9-4 against United States in eight ends after the Americans conceded. Britain (2-1) came from behind to overcome Germany 7-6 in the afternoon session's other game at the Ice Cube Curling Center.   
The U.S. loss means the American men and women are a combined 0-4.   
Canada's curlers were looking on the bright side but a second straight loss will jolt a team not used to losing. Brad Jacobs' rink became the first in history to go through curling-mad Canada's Olympic trials unbeaten, making them the overwhelming favorites in Sochi.   
"We're not flat, we're just not making everything," Canada curler Ryan Fry said. "Against teams that are playing this good against us, you need to make everything."   
Canada's body language revealed a definite sense of frustration, however. Fry, Jacobs and teammates E.J. Harnden and Ryan Harnden often leaned on their brooms, gesticulating and appearing to bemoan their bad luck.   
"In this game, they kind of struggled a bit," Edin said. "You could tell that on the ice ... Smashing their brooms seven or eight times in a row. It was quite hard to miss. Almost all of them were doing it."   
The teams traded deuces through nine ends, but Sweden crucially had the last stone in the 10th.   
It fell to the final shot, when Edin needed just to draw his stone into the four-foot ring. The team over-swept and the stone went further than expected, coming to rest just in time.   
"When we shook hands, I had to ask them who won," Edin said. "It was kind of a weird moment not knowing."   
Sweden also beat the Canadians in the final of the 2013 world championships, held in Victoria, Canada.   
Elsewhere, Norway continues to show there is more to its curling than its funky dress sense.   
Against Russia (0-3), the pattern on the Norwegians' pants was red-and-blue splattered paint, meaning they still haven't worn the soccer socks/flat cap/knee-length knickers combo that wowed observers during practice sessions over the weekend.   
Norway was always in control against the host nation and the final score slightly flattered the Russians, who picked up three points at the last end.   
Germany, the United States and Russia are the three teams without a win heading into Day 3.