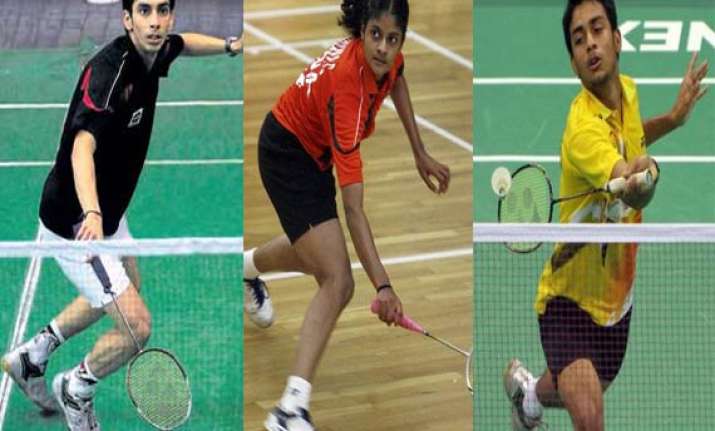 Johor Bahru (Malaysia): Indian shuttlers R.M.V. Gurusaidutt, P.C. Thulasi and Sourabh Varma entered the quarter-finals of their respective categories at the Malaysia Grand Prix Gold here Thursday.
While Thulasi overcame compatriot Tanvi Lad 21-2, 17-21, 21-18 in a one-hour and eight-minute marathon women's singles match, eighth-seeded Varma ousted Japanese ninth seed Kazumasa Sakai 21-15, 17-21, 21-19 in an equally tough men's singles match which lasted an hour and 11 minutes at the Stadium Perbandaran Pasir Gudang.
The men, with a draw of 64 players, had to play two matches Thursday and Varma had to drub compatriot Chetan Anand 21-14, 21-17 to progress to the third round earlier in the day.
Sixth seed Gurusaidutt eased past Indonesia's Wisnu Yuli Prasetyo 23-21, 21-9 in 36 minutes after beating local player Seng Zoe Yeoh 21-17, 21-13 in 32 minutes to advance to the third round. He will next play Malaysia's second seed Wei Feng Chong in the last eight clash, against who he has lost all three of his career meets so far.
However, Thai Thammasin Sitthikom made short work of 12th seeded B. Sai Praneeth 21-17, 21-14 in 43 minutes after the Indian beat local Nur Mohd Azriyn Ayub 16-21, 21-7, 21-4 to proceed to Round 3.
Seventh-seeded H.S. Prannoy's journey also came to an end in the third round as he was thrashed by 10th seed Nan Wei of Hong Kong 9-21, 21-17, 18-21 in 56 minutes. Earlier, Prannoy had defeated Japanese Riichi Takeshita 21-17, 25-23 in the second round.
Former national champion Anup Sridhar and Aditya Prakash lost in the second round. While Japanese ninth seed Kazumasa Sakai beat Sridhar 21-13, 21-11 in 29 minutes, Indonesian 15th seed Simon Santoso needed only 31 minutes to oust Prakash 21-17, 21-10.
In men's doubles action, Alwin Francis and Arun Vishnu trounced Thai pair Wannawat Ampunsuwan and Patiphat Chalardchaleam 17-21, 21-19, 21-19 in 56 minutes in the second round to proceed to the quarter-finals where they will take on Malaysian second seeds V. Shem Goh and Khim Wah Lim.
Meanwhile in women's doubles, Chinese Dongni Ou and Mengjing Xiong went past eighth seeds Prajakta Sawant and Arathi Sara Sunil 21-2, 13-5 after the Indian combine retired after only 18 minutes in the second round.
It was good news for Indian eighth seeded shuttlers Pranaav Jerry Chopra and N. Siki Reddy in mixed doubles as they edged past Chinese Taipei combine Po Han Yang and Hung Yu Chen 21-13, 17-21, 21-14 in 40 minutes to enter the last eight after overcoming Malaysia's Chee Tean Tan and Shevon Jemie Lai 21-16, 21-14 in half an hour.
Later, local duo Fai Yin Wong and Mei Kuan Chow beat sixth seeds Arun Vishnu and Aparna Balan 21-19, 21-7 in 31 minutes in Round 1.
Lastly, Mohd Lutfi Zaim Abdul Khalid and Fie Cho Soong of Malaysia beat Malaysia-India pairing of Vountus Indra Mawan and Prajakta Sawant 21-14, 21-13 in 27 minutes.