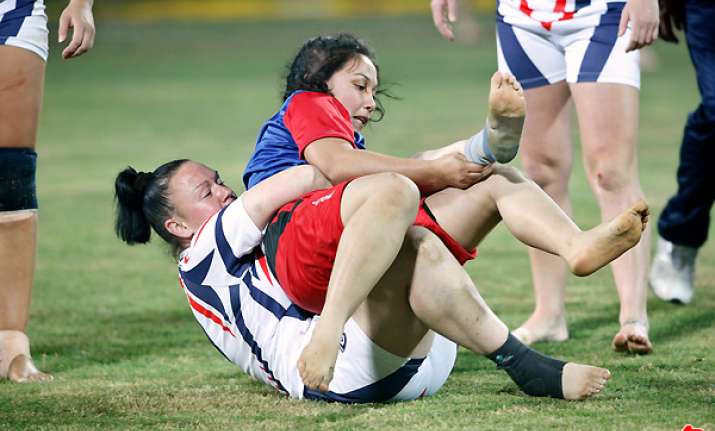 New Delhi, Nov 18: The ancient sport of Kabaddi most popular in India's rural north is ironically making headlines for a modern-day menace—doping.

A World Cup being sponsored by the Indian state of Punjab has been marred by rampant use of performance-enhancing drugs resulting in at least 34 positive cases, excluding those banned for refusing to be tested.

Players from Britain, Australia, the United States, Spain, Canada, Italy, Norway, Germany, Argentina and India have failed tests—teams representing Australia and the United States were withdrawn from competition, and more cases are likely to be reported.

The bigger than usual prize money at stake in a sport which combines speed, strength and endurance with the rugged elements of rugby, wrestling and tag seems to have turned players to performance-enhancing substances.

And the head-turning number of doping cases is probably due to the fact that very few of the 250 players in the tournament expected to be tested—after all, there's no international kabaddi federation—and partly due to ignorance about the list of banned substances.

"We were asked by the organizers to test players for doping," India's National Anti-Doping Agency (NADA) director-general Rahul Bhatnagar told The Associated Press in a telephone interview. "They had asked for some 70 players to be tested but once we saw rampant doping, we decided to test every participant."

As a result, the tournament involving 14 men's teams and four squads in the women's draw has been mired in controversy, outstripping even the number of doping cases at the trouble-plagued Commonwealth Games in New Delhi last year.

Expats from the subcontinent have taken the 4,000-year-old rustic game to all parts of the world. It's popular because it requires little more than a square piece of land about half the size of a basketball court for matches, and can be played indoors or out, on the beach, on grass, dirt or mud.

The lure of big money by kabaddi standards—the World Cup promises a purse of $400,000 to the men's champion team and $200,000 to the runner-up—has attracted players from all over the world.

Though kabaddi has grown internationally since being introduced as a demonstration sport in the 1982 Asian Games in New Delhi, it does not have an international governing body. And there are various versions of the game with different rules.

The sport still has its spiritual home in India, where the National Kabaddi League has a prize of $20,000 for the champion team. But there are multiple leagues in most countries centered around places where South Asian expats have migrated.

World Anti-Doping Agency compliance was unlikely due to the absence of a recognized international federation, so players were surprised when anti-doping officials came visiting the 16 cities and towns across Punjab that staged matches of the second edition of the World Cup.

"The number of cases were a shock to us. But the list only kept increasing since we tested two players from each team in every match," Bhatnagar said.

Another NADA official, V. Jayaraman, told Canadian media that steroid use was "problematic because the game is being spoiled by big money."

So how is kabaddi played?

The seven-a-side version that is popular in south Asia and has been a regular medal sport in the Asian Games since 1990 is played between two teams. One team sends a raider into the rival half of the field to gain points by tackling, wrestling, grabbing or tagging opponents.

The raider enters the other team's court chanting the word 'kabaddi' until he runs out of breath. In the meantime, he tries to touch opposing players and then return to his own half to earn points. If he makes it back, the players he touched are out of the game.

Teams take turns to send raiders, with the aim of the defending team to either evade the raider or tackle him in such a way that he fails to return to his side before running out of breath.

India's team hasn't been badly tarnished at the tournament, but that's because players were tested in trials earlier in the year—when 20 of 50 players tested positive to banned substances.

"Thus only one Indian tested positive in the World Cup," Bhatnagar said. "There were no positive dope tests from Pakistan, Sri Lanka or Taijikistan. Mostly expatriates (from the Indian subcontinent) representing western countries tested positive."

Leading up to Friday's semifinals, the doping count has been six each from Australia and Britain, five each from Canada and Spain, four from the United States, three from Italy, two from Norway and one each from Germany and Argentina.

Not surprisingly, there have been allegations of dope results being manipulated.

"Our surprise win over Pakistan has led to these dope test results," U.S. team manager Surinder Atwal told reporters in the Punjab. "Organizers want an India-Pakistan final and our 20 years of hard work in trying to build a U.S. team has gone to waste."

But Punjab sports director Pargat Singh, a former India field hockey captain and an active anti-doping activist, says teams were given the option of walking out if they were concerned about doping.

"Four USA players had tested positive and four more were to be tested, when they decided to opt out of the tournament," Pargat said. "We've only wanted to have a clean games."

The ongoing World Cup culminates with the finals scheduled for Sunday in Ludhiana, Punjab's biggest industrial town.