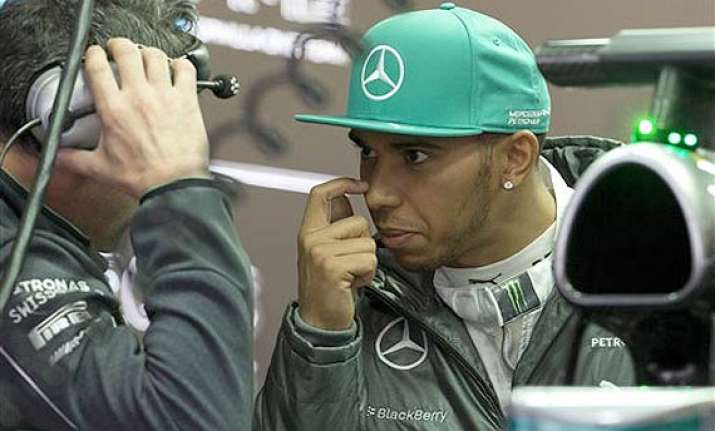 Shanghai: Mercedes driver Lewis Hamilton overcame the rain-soaked Shanghai International Circuit to top Saturday's qualifying session ahead of Red Bull's Daniel Ricciardo, who was followed by teammate and four-time defending champion Sebastian Vettel in the Formula 1 Chinese Grand Prix.
Hamilton's time of 1.53.860 was six-tenths faster than Ricciardo and it was Mercedes' fourth straight pole of the season and the third for Hamilton. The Briton's teammate Nico Rosberg finished fourth, reports Xinhua.
"It was so slippery out there, trying to find the grip, obviously not making mistakes on your lap and really putting it together, especially when you have the Red Bulls pushing you. It was tough but I really enjoyed it. The car was feeling great. It's a good position for the race. I hope we can follow through tomorrow," Hamilton said.
Ricciardo edged closest to Hamilton in the final moments of Q3 but the Australian admitted that he had not got the best out of the session.
"I struggled a bit throughout the session. I didn't feel like I was getting on top of the conditions. But then the last set of intermediates, right at the end of Q3, we managed to get a bit more out of it and I put a good lap together. So pretty pleased to be on the front row. A good day," Ricciardo said.
Meanwhile, Vettel finished just under five-tenths behind Ricciardo and admitted that the Australian's better record in qualifying so far was far from pleasing.
"Daniel is doing a very good job. He has not just had one good weekend, he had good weekends and so far he seems to be able to get the maximum out of the car. On my side, maybe I'm struggling a little bit more but at the end of the day we have the same car," said Vettel.
"There's nothing between cars so if he manages to beat me, then he beats me on the circuit, fair and square. That's not to my liking but I know that I have to do a little bit better."
The two Ferraris of Fernando Alonso and Kimi Raikkonen will start fifth and 11th, respectively.
Hamilton and Rosberg have wrapped up all victories in the first three races this season for Mercedes, who set the pace in constructors' standings with 111 points, 67 more than second-placed Force India. Rosberg leads the championship on 61 points, 11 ahead of Hamilton.