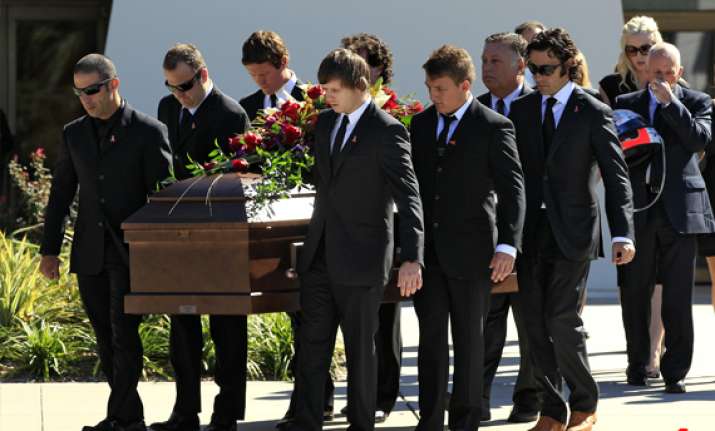 Florida, Oct 23: IndyCar driver Dan Wheldon was buried in a private funeral ceremony on Saturday, after a public memorial service in St. Petersburg, Florida.

Wheldon, a two-time Indianapolis 500 winner, died last Sunday (16 October) in IndyCar's season finale at Las Vegas.

He was remembered on Saturday, at the First Presbyterian Church, not only as a champion but as a devoted husband, caring father, loyal friend and beloved son.

Hundreds said goodbye to the 33-year-old Englishman-turned-Floridian during a service that included a eulogy by the best man at his wedding and country music star Wynonna Judd's rendition of "Amazing Grace."

There was also a church choir and letters by his wife and sister that offered a detailed portrait of the popular, fun-loving and always tidy driver.

Fellow IndyCar drivers Dario Franchitti, Scott Dixon and Tony Kanaan served as pallbearers. Wheldon left behind two young sons, 2-year-old Sebastian and 7-month-old Oliver. They were on hand for the service.

Close friends and family members left the church and rode to the cemetery. Mourners watched Franchitti, Dixon, Kanaan and Wheldon's three brothers load the coffin. Team owners Chip Ganassi and Roger Penske attended the service, along with just about every IndyCar driver as well as some from other racing series.

Drivers Will Power and Pippa Mann, both hurt in the 15-car crash that cast a shadow across the sport, were still suffering from their injuries on Saturday. Power was hobbling from a back injury; Mann's right arm was bandaged.

Many of them were planning to attend another service in Indianapolis on Sunday.