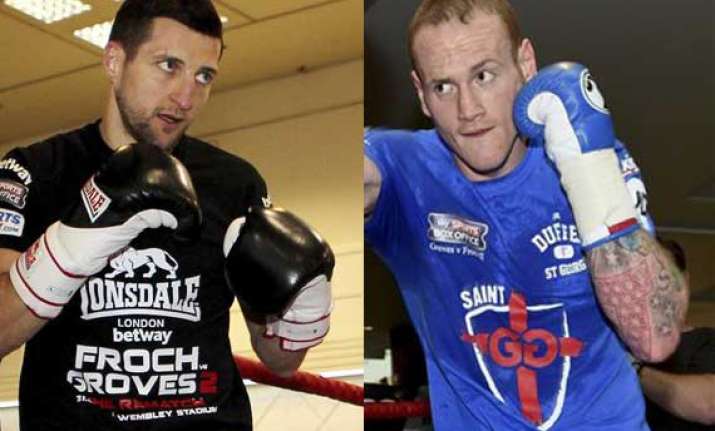 Billed as one of the biggest fights in British boxing history, the second installment of Carl Froch vs. George Groves has the ingredients of a classic. Now it just has to live up to the expectations.
Saturday's fight for Froch's IBF and WBA super-middleweight titles will take place at Wembley Stadium in front of a record British boxing crowd of about 80,000 fans. It features an established champion against a young pretender and a score to settle after a controversial first fight.   
The rematch has been a promoter's dream because of the dramatic first fight in Manchester last November.   
The 36-year-old Froch -- arguably Britain's top boxer of the past five years -- was knocked down in the first round and exposed for more than half the bout by an upstart 11 years his junior. In the ninth round, Froch finally landed some meaningful punches of his own to leave Groves wobbling, but the challenger was still on his feet when the referee stepped in to end the fight.   
With the crowd howling in derision, it was an unfortunate way to end a memorable fight. It was no surprise that the IBF ordered a rematch after Groves made a complaint, and the clamor for Froch-Groves II was already irresistible.   
There will be unfinished business in London, with Groves intent on sending Froch into retirement.   
"We've been working on left hooks," Groves said Thursday. "We know the left hook will work and it will be the left hook that finishes Carl Froch on Saturday."