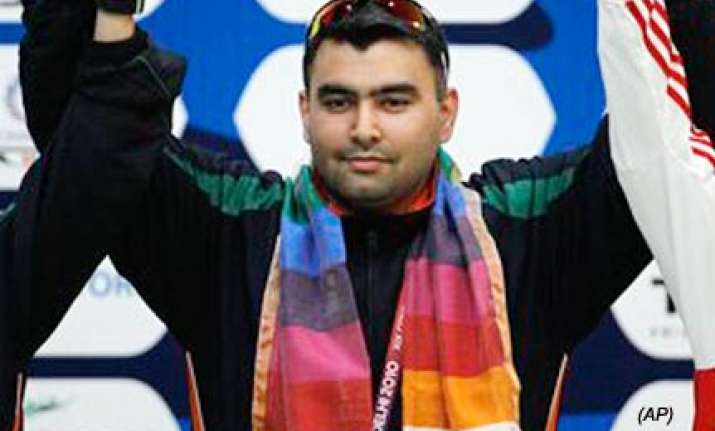 New Delhi, Oct 9: India's top drawer marksmen were bang on target while freestyle grapplers Yogeshwar Dutt and Narsingh Pancham Yadav came up with a power-packed display to help India bag four gold medals but England nosed ahead of the hosts in the medals table at the Commonwealth Games today.
England caught up late with India's overall haul of 24 gold medals, but a much superior silverware heist helped them in standing one rung below front runners Australia and one above the hosts on the sixth day of competitions.
Rifle ace Gagan Narang won his fourth gold medal, just one short of compartriot Samaresh Jung's haul at Melbourne four years ago, winning the men's 50m 3-position event with a Games record aggregate 1262.2.
He will now aim to overhaul Jung's record haul on October 12 and 13 in the 50m prone (pairs and individual) event and become the new "Gold Finger".
Centre fire pistol shooting pair, Vijay Kumar and Harpreet Singh, and wrestlers Dutt (men's 60kg) and Yadav (men's 74kg) also snapped up their gold medals in imressive fashion to take the host country's gold tally to 24.
It was also the country's second-highest gold medal tally in Games history and six short of the record 30 at Manchester in 2002.
But England -- with 41 silver to India's 17 -- edged them out in the bitter struggle to take the no.2 place on a day of fluctuating fortunes.
India's tally stood at 24-17-15 while England's read 24-41-29. Australia were way ahead with 54-30-31.
Sania Mirza, India's best bet in women's singles, won the day's only silver medal when she lost to Australia's Anastasia Rodionova in three sets in the final.
"Indian Express" duo Leander Paes and Mahesh Bhupathi, pre-Games favourites, ended up third in men's doubles while the country won four other bronze medals, including a first-ever in men's 20km road walk through Patiala's based Harminder Singh (1 hour, 23 minutes, 28 seconds).
Harminder was only the fifth man to win an athletics medal in Games history after Milkha Singh (gold in men's 440yard race in 1958), Praveen Kumar (silver in men's hammer throw in 1966), Mohinder Singh Gill (bronze in men's triple jump in 1970; silver in men's triple jump in 1974) and Suresh Babu (bronze in men's long jump in 1978).
The other bronze medals were claimed by women shooters Suma Shirur and Kavita Yadav, in women's 10m air rifle pairs event, men's table tennis outfit which blanked Nigeria 3-0 in the bronze medal tie and weightlifter Monica Devi (women's 75kg).
In all, the shooters have secured 21 medals (12-7-2), five short of the record 26 gained at Melbourne in 2006.
Grappler Yogeshwar Dutt defeated Canada's James Mancini 9-2 in the 60kg freestyle gold medal bout while Yadav beat South Africa's Richard Bri Addinall in the 74 kg title-deciding fight.
Another wrestler, Anil Maan (96kg) lost his preliminary bout to Leon Gregor Rattigan of England.
Despite an average performance, Monica Devi won her weightlifting bronze with a clearance of 216kg, 23 kgs less than gold winner Hadiza Zakari of Nigeria.
In boxing, Asian champion Suranjoy Singh (52kg) and Amandeep Singh (49kg) assured India of at least two medals by advancing to the semifinals with contrasting wins.
In hockey, the Indian men's team defeated Scotland 4-0 and need to win their crucial tie against Pakistan tomorrow to make it to the semi finals while the women crashed out despite beating South Africa 3-1 in a pool tie.
There was disappointment for India in all other athletics event.
In women's 20km race walk, however, Rani Yadav finished sixth in 1:42.54 while K J Sandhya was eighth in 1:51.44. L Deepmala Devi did not finish the race.
In the evening, other Indians could not emulate Harminder's feat on the fourth day of the track and field events even though the showpiece venue Jawaharlal Nehru Stadium was thronged by nearly 40,000 spectators, the biggest so far.
The best Indian performance in this session came from Sudha Singh who finished fifth in women's 3,000m steeplechase by setting a new national record of 9:57.63. She erased the earlier mark of 10:03.05 standing in the name of Jaisha.
Jaisha flopped along with Priyanka Patel by bringing up the rear to finish eighth and ninth in a slow 10:20.83 and 10:26.48 respectively.
In women's shot put final, Manpreet Kaur and Patwant Kaur finished a distant ninth and 11th in the 12-athlete field. Manpreet threw 14.50m while Patwant cleared 12.63m.
India's Saraswathi Sundaram and Suman Devi finished a lowly eighth and ninth respectively despite setting their season's best of 51.51m and 51.19m in women's javelin.
In men's discus throw, national record holder Vikas Gowda finished second by clearing 60.83m to qualify for the finals while Anil Kumar fell by the wayside after ending at 13th with a disappointing 47.68m effort.
In women's 200m, Satti Geetha ran her season's best of 23.99secs to finish third in a round one heat and qualify for the second round.
In men's 200m, India's Dharambir ran his personal best of 21.20secs but still failed to qualify for the semifinals after finishing sixth in one of the round two heats. The other
Indian in the fray, Mohd Abdul Qureshi was disqualified for false start in a round one heat.
In women's long jump, all the three Indians – Maliakkal Prajusha, Mayookha Johny and Resmi Bose -- qualified for the finals with efforts of 6.31m, 6.27m and 6.12m respectively.
In men's 400m hurdles, both the Indians in fray -- national record holder Joseph Abraham and Kuldev Singh -- failed to qualify with both finishing fourth in their respective heats. Abraham clocked 50.55secs, below his season's best of 50.24secs and national mark of 49.52secs.
Both their women counterparts also could not qualify for the finals after finishing fifth in their respective heats. Jauna Murmu clocked 59.86secs while Ashwini Akkunji timed 59.49 secs. PTI