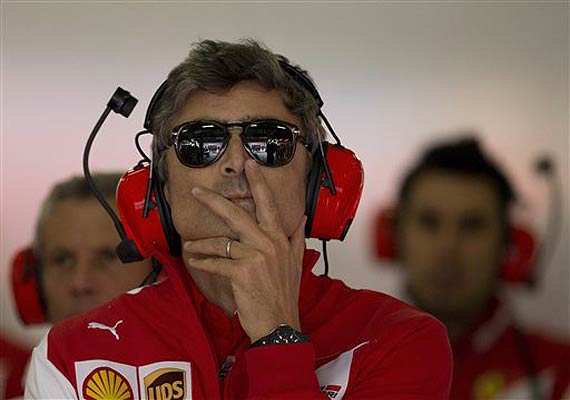 SHANGHAI :  Ferrari's new team principal, Marco Mattiacci, arrived at the Chinese Grand Prix on Friday wearing large sunglasses -- on an overcast day.
There was a reason, he said, and it didn't have anything to do with vanity.   
"If you do, in less than four days, almost 40 hours of flying and you don't sleep in the last four days, probably you need sunglasses," he said.   
It's been a whirlwind week for Mattiacci, who became principal on Monday when Stefano Domenicali quit after the team's poor start in Formula One.   
Mattiacci, the former president of Ferrari North America, said he received a call from Ferrari chairman Luca di Montezemolo last Friday at 5:58 a.m., to be exact, to discuss the job, and hours later he was on a plane to Milan. Now, he's in Shanghai for his first big test, trying to inspire his team to its first podium finish of the season.   
Mattiacci realizes he has his work cut out for him. He has no F1 experience, though he said he's a racing fan and spent more than 20 weeks on various tracks last year, learning as much as he could about the series.   
It will also take time to diagnose the team's problems with the car and connect with Ferrari's drivers, former world champions Fernando Alonso and Kimi Raikkonen.   
Alonso said Thursday he wasn't sure if Mattiacci was even coming to Shanghai, and when Raikkonen was asked his opinion of the new team principal, he responded: "I don't know him. I probably met (him) before."   
Mattiacci said on Friday, though, that he doesn't see his lack of experience to be an obstacle.   
"I accepted (the job) because sometimes you can bring a new perspective," he said. "The fact is I need to prove I have the level of Ferrari, first, and a level of Formula One, so you have in front of you an extremely motivated person."   
Domenicali helped Ferrari win the constructors' championship in his first year in charge in 2007, but the team failed to capture a driver's title under his guidance. Ferrari hasn't won a race since Alonso's victory at the Spanish Grand Prix almost a year ago, its worst run in nearly 20 years.   
The team has failed to keep pace with Mercedes this season following the introduction of the fuel-efficient six-cylinder engines. Alonso and Raikkonen finished in a dismal ninth and 10th place, respectively, at the Bahrain GP two weeks ago, the first race attended by di Montezemolo this year.   
Mattiacci said it's too early to say whether he'll make sweeping changes, though he didn't rule out restructuring the team if necessary.   
He said he still feels the team can be competitive, despite its early lack of form.   
"I don't think we're going to give up," he said. "There are many variables that can influence a lap, that can influence a race and a championship. This is the fourth race. It's still very early to take decisions, but our objective is to close the gap as soon as possible with Mercedes."   
He waited a second before adding: "Not easy task, not easy task."