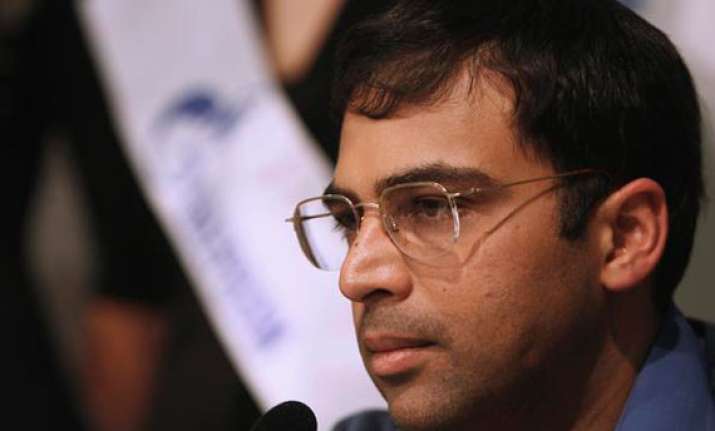 Neemrana, Nov 13: Ace Indian chess player and the defending world champion Viswanathan Anand feels that the sport has the ability to create future leaders and gives vent to the "real and meaningful thinking".

"Chess offers an outlet for pure, real and meaningful thinking, and the game has a 'Zen' like quality of symmetry, equality and fair play," said Anand.

Anand while addressing a packed gathering at the NIIT University on Saturday said progress in education and knowledge are intrinsically linked with the human brain and added that the strategies used in chess can effectively be used to build a sound future.

"The strategies from the game of chess can be used effectively and innovatively to create the great leaders tomorrow," Anand insisted while emphasising on 'Building a Beautiful Mind.'

Established with a vision to bring about innovation in higher education and learning in emerging areas of the knowledge society, the NIIT University on Saturday hosted the 3rd Annual Lecture by Member of Parliament and chairperson of the institute Karan Singh.

Singh in his lecture told the students that India's aspirations are touching new heights and insisted that the country needs an education system that emphasises on over all development of individuals.

"We are today the world's largest democracy and by the year 2050, we would be the second largest economy in the world. To sustain this growth, we need a higher education system that goes beyond text book learning and focuses on holistic development of individuals," said Singh.

He also enlighten the gathering with his thoughts on the vedantic philosophy and insisted that the concept of "world as one family" is the only way to go forward.

Karan Singh also awarded degree certificates to the first batch of MTech students from the emerging field of Educational Technology while Anand in his customary style played chess with the students.

On the occasion, founder NIIT University and chairman NIIT limited, Rajendra S Pawar said with the world shifting towards a knowledge driven society, tight compartmentalisation of education will soon become redundant.